16:18, 27 September 2018
3192 views
TRUSTECH: The Leading Event for Digital Trust Technologies discloses its 2018 edition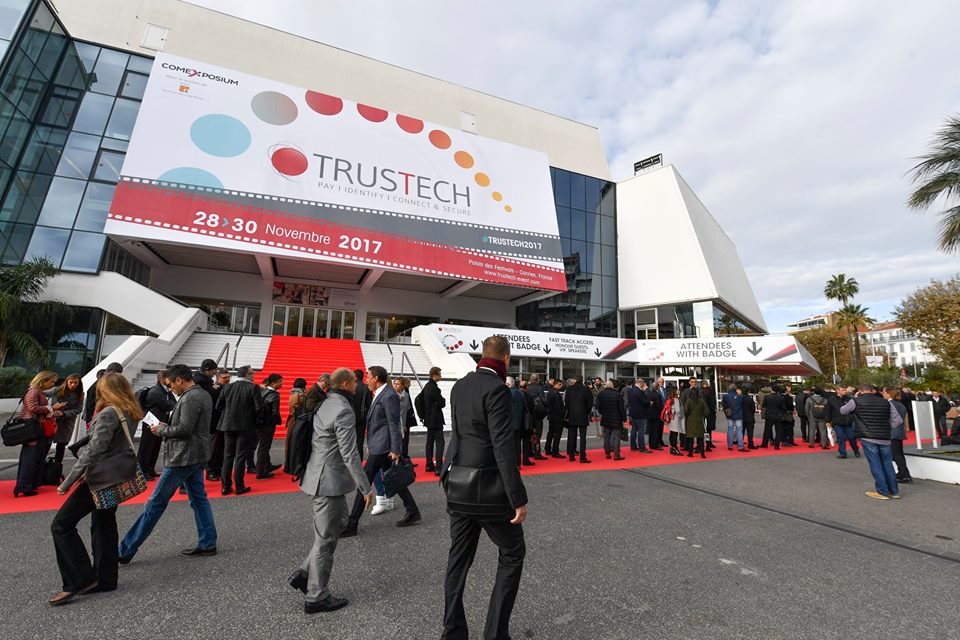 From 27 to 29 November, professionals from digital trust technologies industry will again be taking centre stage at the Palais des Festivals convention centre in Cannes. The event was first held over thirty years ago under the name «Cartes Secure Connexions» to promote the newborn technology of smartcards. In 2016, it is re-named TRUSTECH to better reflect the way the industry and the event have evolved, and its focus on trust-based technologies.
The schedule for TRUSTECH 2018 includes 3 days in which to inform, learn and discover.
More than 300+ exhibitors and 250 international speakers - young and talented entrepreneurs as well as opinion leaders from the payments, financial services, retail, identification and data privacy industries, will share their insights about Digital Trust.
2018: a watershed year for data protection
With the introduction of the second version of the Payment Services Directive (PSD 2) and the General Data Protection Regulation (GDPR), 2018 represents a major year for data protection in Europe. The impact of these regulations will naturally be one of the key topics addressed during the TRUSTECH conferences.
Among the other thematic sessions: artificial intelligence for business, cloud, networks & IOT, fintech 2020: re-evolution, modernizing identity & trust in healthcare, iot: from pilots to reality, china & asia:  challenging the norms of banking & finance, cyber risk for the payment industry, biometrics:  key for the digital world, strong authentication for the retail consumer journey, identity and privacy:  the full picture, crypto trust & cryptocurrencies, the future of blockchain, mobile payments & wallets: the war is declared, industry insights.
KEYNOTE STAGE, the best and most exclusive speaker line-up
The Keynote Stage brings together Top Industry Leaders who explain how their companies are embracing innovation and share their vision on the future of the industry. 
They have already confirmed their keynote: 
•
Dr Ash Booth - Head of AI, HSBC, 
Artificial Intelligence in the Face of Data Privacy
Machine Learning and artificial intelligence more broadly have changed the way organizations work and are, without doubt, here to stay. The fuel propelling this organizational revolution is data - vast and disparate datasets that are very often made up of personal data. As such, it's clear that the use of these techniques has major implications for data protection, privacy and the rights of individuals - factors that are becoming increasingly important with the implementation of the General Data Protection Regulation (GDPR).
This keynote talk provides an overview of recent advances in encryption and machine learning techniques that allow firms to act within the GDPR, enabling not only social benefits such as community and dignity, but also commercial benefits such as improved insight, operational efficiency, and innovation.
•
Patrick Gauthier - Vice President of External Payment Services, Amazon, 
Connected Commerce
Amazon Pay was launched with the focus of simplifying the customer's shopping experience; since it enables shoppers to check-in and check-out using information already stored in their Amazon accounts.  Amazon Pay is extending this experience from third-party websites to multiple channels, helping retailers connect with customers in multiple ways.  In this keynote presentation, we will highlight some key trends of today's connected consumer and key consumer insights in payments. 
•
Martha Mbhendi-Fisher - Founder, European Women Payments Network (EWPN) & African Women in Fintech & Payments (AWFP), 
Femtech in Fintech:  The Untapped Opportunities
The global women's market  is estimated to be around $17 trillion! This is without considering the fact that household decision making is made by women to the tune of over 60%-70%. This keynote will focus on the opportunities and importance of embracing diversity in fintech and also talk about the work we are doing at European Women Payments Network (EWPN) and African Women in Fintech & Payments (AWFP) and how we can help fintechs tap into female talent by embracing diversity in workforce, diversity in target customers, and diversity in product design.
•
Elizabeth Baron - Virtual Reality and Advanced Visualization Specialist, FORD MOTOR COMPANY, 
Immersive Vehicle Verification:  Storytelling for Collaborative Design and Engineering
Getting immersed in a potential reality is highly beneficial, especially while communicating with a global and cross-functional team in real time. Elizabeth will detail how immersive environments are used to tell the stories of a customer's experience, or an engineer's experience to bring global teams together in a holistic, shared manner that is unlike any other type of design or engineering review. 
•
Marta Piekarska - Director of Ecosystem at Hyperledger, The Linux Foundation.
Enterprise Blockchain:  Finding Trust and Security in the Chain
If Blockchain, the distributed ledger (DLT) underlying bitcoin is "the new black", then it is time to ask:  is it secure?  We know it is more valuable than the currency it supports and enterprises have already started to put distributed ledger technology into practice.  However, it's also important to understand the security implications for the industry and how blockchain potentially impacts transparency and trust.  In this inspirational keynote, we'll explore the advantages of public vs. private blockchains and highlight some innovative lessons learned from enterprises successfully employing real-world blockchain solutions.
•
Victoria Saue - Head of Legal, Risk and Compliance for e-Residency program, Government of Estonia, 
Building the Digital Nation: The Estonian Experience
Estonia has issued the strongest digital identity to 97% of its population for almost two decades and since 2014, tens of thousands of people from over 150 countries have become Estonian e-residents members of the new digital nation. This keynote will provide attendees with an overview on how Estonian transparent and trusted digital environment works and how it was possible to open the environment and e-services to non-residents.
•
Eric Léandri – Chairman & Co-Founder, Qwant, 
The search engine that respect your privacy! Eric Léandri is a specialist in web, IT and network security with 20 years experience as a technology entrepreneur.  Prior to Qwant, he held positions such as Head of Special Projects for a number of global firms such as UB, deputy-CEO of Trustmission, and majority shareholder and managing director of Mobilegov SaaS.
•
Jonathan Vaux, Executive Director, Engagement - Innovation Centre, Visa
Global payments technology 
That allows enabling consumers, businesses, banks and governments to use digital currency and to do business with confidence. Our technology and innovation make digital payments a reality for consumers, businesses, banks and governments. Jonathan will share the simple and unwavering Visa vision: To be the best way to pay and be paid for everyone, everywhere.  Whether it's a street vendor in Brazil selling food to make a living or a fisherman in Rwanda paying his daughter's school fees, Visa wants to provide the most secure and seamless payment experience possible.  
INNOVATION STAGE, announcements, insights and case studies
At the heart of the event, the worldwide community of innovators & disruptors present ideas, product launches and solutions: lively sessions in front of an international audience of customers, partners, investors and the media.
ONE-TO-ONE MEETINGS, experts to optimize its business
TRUSTECH help enterprises develop their business internationally, organizing free of charge business meetings for all its attendees (exhibitors, sponsors, visitors and delegates):
• Meet and share views with experts from business field
• Present, discuss and develop new projects
• Initiate cross-border contacts and co-operations
Delegates using the discount code PARTT18 will benefit from €550 discount (€400 instead of €950).
Tweet