16:28, 27 September 2018
4538 views
Financial Services hits the Heights with The ATM & Payments Innovation Summit in Madrid!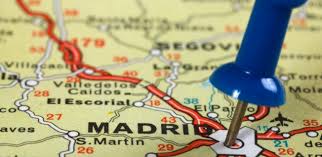 The ATM Industry Association annual European event is always innovative and forward looking – and the 2018 staging will be no exception!
ATMIA Europe will be proudly flying our pan-European banner, as the ATM and Payments Industries gather in Madrid on October 17 -19 this year.
Majestic Madrid, with a glorious past, a stunning present and a wonderful future assured is the perfect venue for an event that focuses on "Seeing the Future, Today".
The future for ATMs is looking particularly bright as we near the end of 2018, with the pathfinders of the Next Generation of Smart ATMs soon to begin replacing disappearing bank branches as community touch points, providing financial services to everyone, young and old, rich and poor.
ATMs no longer simply dispense cash. Europe will increasingly enjoy the benefit of machines which provide all of the services once available only on bank premises. Every Smart ATM installed will breathe new life into the communities in which they are conveniently located. Surrounding businesses will prosper as a result and local people will again be able work and live in their own vibrant neighbourhoods.
This is the vision which will be vividly illuminated at the ATM & Payments Innovation Summit. Around 50 speakers will give substance to the conference theme, illustrating in their own words just how exciting the years ahead can be for ATMs and cash.
Speakers from several Central Banks, including the Bank of Spain, Bank of Mexico and Bundesbank, will be joined by senior figures from major European Commercial Banks. They will all emphasise the continuing importance of cash in European markets, even as digital innovation increases yet further.
Many speakers will focus on how the "Digital Revolution" in banking can work in parallel with the introduction of Smart ATMs to deliver ever-increasing excellence in customer service, at affordable costs.
500 payment professionals at the event will also enjoy presentations from outside Europe, including from a long-established Australian Bank and the biggest ATM operator in Brazil. Each will demonstrate in a different but connected way how innovation is being introduced for bank branches, cash and ATMs which can lead to higher revenues, lower costs, improved customer service and better security.
Closer to home, the UK Royal Mint will be showing evidence of the continuing importance of coins and, indeed, how metal can in certain circumstances replace existing "paper" currency to improve the efficiency of cash circulation as a whole.
ATMIA Global will also use the Spanish Summit to launch the blueprint for interoperable ATM software, developed by the ATMIA-lead Next Generation ATM Consortium. The Consortium is a dynamic, fast-growing group of over 170 companies, covering every facet of the ATM industry. The challenge is to future-proof ATM software, allowing for the additional services needed as Smart ATMs become increasingly crucial in the provision of convenient access to financial services around our planet.
The speakers already mentioned will be joined by top management from Equipment Manufacturers, Software Developers, Cash Management Organisations, Security System Providers and Outsourcing Contractors. Each will give their own views on what the exciting future holds for the industry and how they are working to guarantee a better future for all, including the public, everywhere
Of course, the ATMIA never forgets that there is a world away from ATMs, so the Summit proper springs into life with an inspirational presentation from Chris Bertish, who describes himself as a "Speaker. Author. Waterman. Ocean Pioneer". A very fair description of a man who has done it all, from surfing giant waves the size of major buildings, setting many Stand Up Paddle world records, paddling 7500km across the Atlantic - and raising money for charity. Chris has inspired audiences everywhere and is a truly unique ambassador for positive ocean and climate change projects.
Even before Chris Bertish makes his appearance, to receive, no doubt, a tidal-wave of acclaim on 18 October, the previous afternoon sees the ATMIA staging two superb Workshops in the conference venue.
These Workshops, free for Summit attendees, provide a first-class opportunity for focused learning on the subjects covered. Each Workshop will last around 3 hours.
Workshop 1: 
The new operating model aimed at ensuring commercial success for start-up or small Independent ATM Deployers
This workshop is a unique opportunity to learn in detail about the European ATM landscape and how start-up or small Independent ATM Deployers can operate successfully within it. Hosted by CashFlows, a leading BIN sponsorship provide, it will furnish participants with a wealth of information that will better equip them for industry challenges. This is a must-attend session covering subjects such as key actors, commercials, revenue streams, on boarding, contracts, SLAs and much more.
Workshop 2: 
Innovate through technology
To contribute to seeing the future starting from today, this workshop includes a review of today's available technology, plus current regulations and business trends. The industry stands at the exciting cross-roads of old and new technology: development of the old (e.g. moving to Windows 10) versus the introduction of next generation ATM architecture. The same can be said about payment technology; in the era of Apple Pay, Bitcoin and PSD2, where modern meets legacy, such as continuing support of magnetic stripe technology.
Payment Redesign's Eric de Putter & Marcel Ficken, along with clients and partners, will present their thoughts on every important aspect of this crucial subject.
I am confident that I will have excited you enough so that you will want to spend at least a few days in Madrid come October! Actually, I could feel my own excitement increasing as I keyed this article – luckily, I am already registered!
If YOU haven't already registered, you can do so NOW by contacting Mary Lawrence, the ATMIA European Conference Director, at mary.lawrence@atmia.com Mary will be delighted to assist you to register for a sure to be unforgettable event!
Tweet