14:55, 23 September 2019
1887 views
The first PLUS-Forum CIS will bring together FinTech experts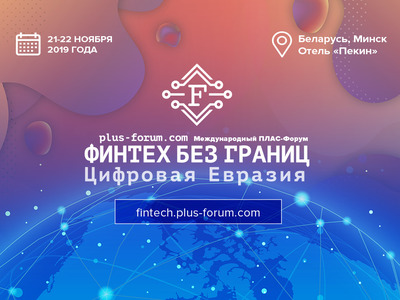 We introduce the key speakers of the International PLUS-Forum "FinTech Borderless. Eurasia Digital" to be held in Minsk, the CIS capital, on November 21–22, 2019.


The Forum will bring together representatives of national regulators, relevant ministries and agencies of the CIS and EEU member states, banking sector, as well as representatives of FinTech community of the world's major economies, including countries of Southeast Asia and other regions.
Forum speakers:
Victor Ikawa, Head of Research and Consumer Insights at Safaricom
Olga Antonovich, Head of Electronic Payment Products Department, Main Directorate of Payment system and Digital Technologies, National Bank of the Republic of Belarus
Alexander Egorov, Deputy Chairman of the Board, Belarusbank
Viktor Dostov, E-Money Association
Elina Sidorenko, Doctor of Law, Professor, Head of Digital Economy and Financial Innovations Center, Head of the State Duma Working Group for the Assessment of Crypto-currency Turnover Risks 
Sergey Sheikhetov, Head of Qualitative Research in Sub Saharan Africa countries, Kantar
Brian Richardson, Director General and Co-Founder of WIZZIT International
Matteo Rizzi, Co-Founder, FinTechStage
Slava Akulov, Chief Operating Officer, ANNA, Great Britain (bank for entrepreneurs)
Yuriy Ivanov, Head of Fintech and Payment Services, VKontakte
Elliot Goihman, Founder, LikeBank
Vadim Yudin, CEO, GUARCCESS, etc.  
The Forum business agenda includes discussion of the most topical issues related to the development of banking and payment business in the Commonwealth member states.

Other topical issues to be discussed by the   Forum participants include the shift of priorities in the payment industry, banking and FinTech; financial services in the digital era; new acquiring business models and their implementation; cyber resistance and new threats; the best retail banking practices.

PLUS-Forum delegates from many countries will be able to get familiar with the innovations from the most advanced companies of the world and the CIS countries, in particular, and to learn how they are applied by various financial institutions. At the same time, the PLUS-Forum will offer a direct access to promising projects of the Commonwealth countries and other participants.
The International PLUS-Forum will be held in the capital of Belarus. The venue address: Beijing Hotel, 36 Krasnoarmeyskaya str., Minsk.
You can look through the list of topics and get registered for the PLUS-Forum at the official web-site of the event: fintech.plus-forum.com. 

Tweet