17:31, 5 February 2020
1940 views
Payments 2025: first speakers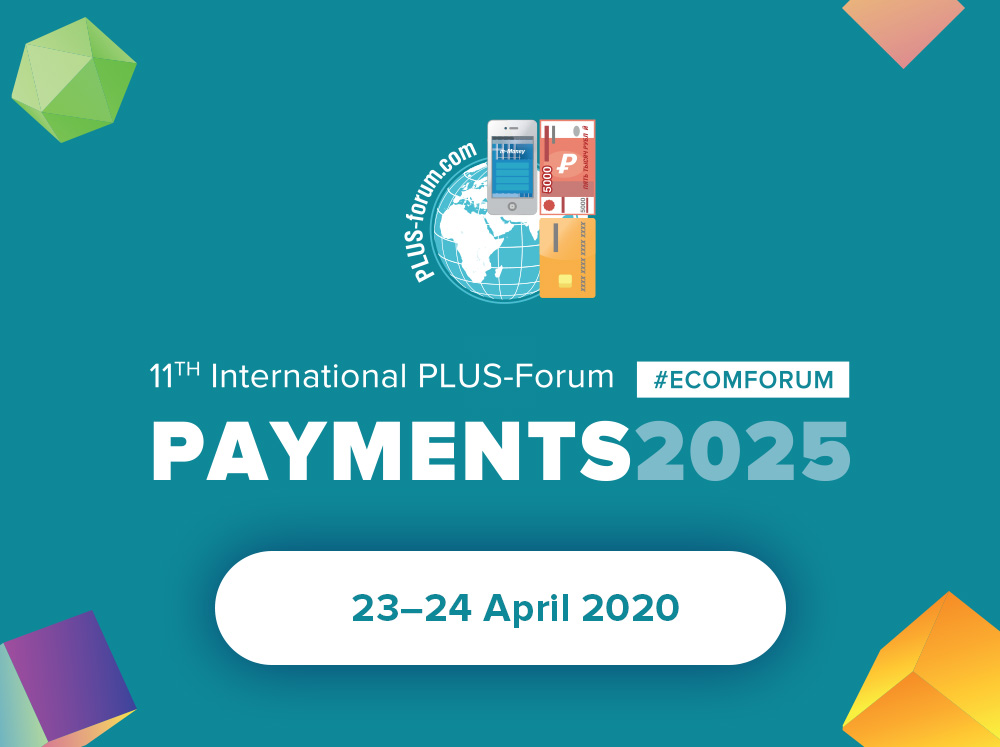 Announced the names of first ten experts who will speak at the International PLUS-Forum "Payments 2025" to be held at Sokolniki Exhibition and Convention Centre in Moscow from April 22-23, 2020.

Below are the confirmed participants in the Conference of the PLUS-Forum focused on the current state and development of retail banking, the payment industry and remote services: 
Andrey Makarov

,

VTB Vice President

Sergey Putyatinsky

,

Deputy Board Chairman, MKB Bank

Igor Chuchkin

, Head of Payment Technology Development, MTS Bank

Evgeny Pavlov

, Head of Sales, Bitfury Russia&CIS

Elina Sidorenko

, Doctor of Law, Professor, Director of Digital Economy and Financial Innovations Center, Head of State Duma Working Group on Cryptocurrency Risks

Arseny Shcheltsin

, General Director, Digital Platforms Autonomous Non-Profit Organization

Konstantin Popov

, CEO, Smart Resident Company

Mikhail Levashov

, Professor, HSE (Higher School of Economics National Research University)

Yuri Ivanov

, Director of Financial Services, VKontakte

Alexander Agakov

, Managing Director, QIWI payment service

Illarion Yalovenko

, Director of Financial Services, Tele2

Ilya Dimitrov

, Public Representative of the Presidential Commissioner for Businessmen Rights Protection in charge of Digital Economy Issues. The developer of Seldon software products

Omar Ganiev

, CEO, Deteact

Christian Khmil

, CEO, Web Shield.



This year, the key topics of the PLUS-Forum will be the following:


Banks in a digital society. The shift in business concepts and their implications. Scenarios and forecasts

Development of national payment systems. Integration. Areas of interaction

Fraud monitoring and chargebacks in FPS. The relevance and possibility of consumer rights protection within the framework of payment system services

Tendencies and prospects of the online payment market. New payment models in e-commerce. Innovative IT Platforms

Fintech trends in Russia and globally. Digital transformation of banking and payment market

Open Banking. Open APIs. Using the best international practices

Payment services in the housing and utilities sector as a component of the competitive ecosystem

Acquiring in transit projects. The entry of payment systems into low-margin markets as a long-run trend. Hype or economically meaningful actions?

eSports – a new promising segment of the payment market. Fintech solutions and business cases

Bookmaker business and payment industry. Interaction concepts and practices

National digital currencies. Goals, objectives and implementation tools

Microfinance market yesterday, today, tomorrow. A "snowball" of problems and queries. Legislative and technological transformation of the industry
Partners and Sponsors:
QIWI, EKRAN-SERVICE, Thales, DNA Distribution, WebShield, Uralsib Bank, OSTKARD, Skantek, Deep 2000, Wuxi Juyao Plastic Technology, Regula, Tevian, Shanghai SUNMI Technology Co. Ltd., Morefun, Sunyard, Sim2M, Cashback Force, Dspread Technology (Beijing) Inc., Eastcompeace, Frodex, Ingenico Group, Engineering Stapel, TSYS, Best2pay.
Hurry up and take your place among the market leaders!
Let us know about your participation via email: konstantin@plusworld.ru or tel.: +7 925 005 40 05 (Konstantin Grizov, Deputy Chairman of the PLUS-Forum Steering Committee).

 


You can get registered as a delegate here. Hurry up, limited number of seats available!




 


The PLUS-Forum 2019 was attended by over 1,500 delegates from more than 20 countries, including Argentina, Austria, Germany, Belgium, Great Britain, Iraq, China, USA, Belarus, Tajikistan, Moldova, and more.

 

Keep on top of the PLUS-Forum news at plus-forum.org, follow us in Facebook and Twitter! 

Official Forum Hashtag:  #ecomforum

Tweet