17:53, 5 February 2019
1845 views
Online & Offline Retail 2019: new Speakers and Partners are joining the Journey into the Retail Universe!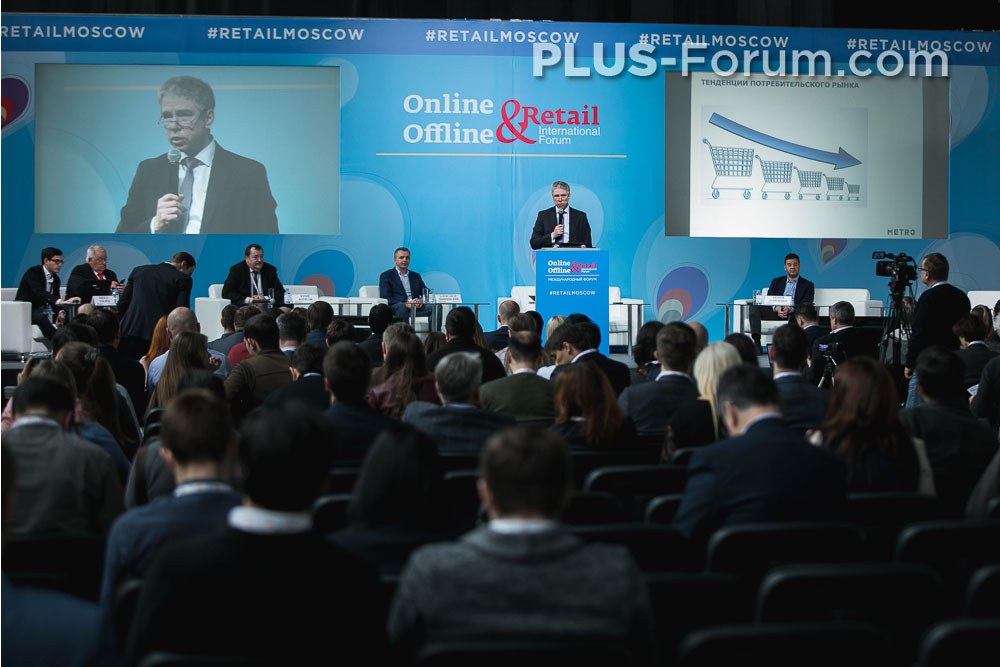 Preparations for the International PLUS-Forum Online & Offline Retail 2019 that will take place on April 10 and 11, 2019 in Moscow are well under Way!
"
Online & Offline Retail 2019
" is rightfully regarded as the best platform for an inclusive discussion of the realities of modern domestic and foreign retail. The market is changing at the speed of light. Are you going to stay up to date? Come to us to make sure we are on the same page!
We are happy to announce that market experts and sponsors whose names speak for themselves have already joined our space travel.
Our Forum has already been supported by:
Global Sponsor: Newland
General Sponsors: BOE Russia, Stoloto
Cocktail Sponsor: HEAD MADE
Chief Sponsors: Dynamic Yield, Rostelecom-Solar, EOS, Evotor, BETA Pro
Partners: SCANTECH Ltd., ARinteg, Interactive Group, Prosoft-Biometrics, Z-CARD RUSSIA, Best Quality Design, IT-PING, LIGAT, Zadarma, Bauflex, Diginetica, Loymax solutions, Aurus, ACCORD POST, Yandex.Kassa, Paytor, Tevian,  Adbox, Forecast NOW!, KONTUR, ISBC, Beelme.
Confirmed participants include:
• Alexey Grigoriev, VP for External Corporate Policy, Chief Representative in Moscow, METRO AG
• Yuri Borisov, Presidium Chairman,  Retail Companies Association (ACORT)
• Anna Tishchenko, ex-Director of Regional Category Management Department, X5 Retail Group
• Ivan Korotkov, Head of Automation, Leroy Merlin
• Ilya Starodubtsev, Director of Logistics, Lamoda
• Alexey Belkin, Partner, McKinsey & Company
• Alexander Shurkaev, Head of Online Retail, Nielsen Russia
• Eric Finnos, CEO, JamesEdition.com
• Boris Kaptelov, COO, YuLA
• Alexey Sokolov, Founder and CEO, EWAS Retail Solutions
• Mikhail Barabash, Head of CRM and Loyalty Programs, Jeans Symphony
• Anton Pavlov, Director for Telecommunications and Financial Services,  Svyaznoy/Euroset unified company
• Tatyana Gromova, Director for Brand Presentation in Retail, SOKOLOV Company
• Ilya Balakhnin, CEO and Managing Partner, Paper Planes Consulting Agency
• Sergey Chernyshev, Director, Nizhny Novgorod Bread–Retail
• and more.
Hurry up to join the team of the most advanced astronauts who do not put away important things for later!
Why your participation in the PLUS-Forum
 is so important?
Reason 1
There you will receive valuable information about the strategies that help the best retail astronauts avoid wandering off the right course.
Reason 2
There you will learn about new breakthrough technologies already implemented on the market or planned for the implementation. You'll understand which of these innovations will help your company achieve the heights. No milk-and-water:  only the brilliant experience of leading retail chains and real cases.
Let's discuss:
• Realia of present-day retail. Practices used by top-managers and strategists to keep their companies up to the mark even in a crisis
• Government regulation and self-regulation of the industry
• Penetration of offline into the "deep space" of online, and vice versa. About how these segments cannot do without one another these days
• Turbulence in e-commerce and how it can be overcome
• How to manage export and import not to be drowned in the "black hole" of the document flow
• Innovative payment instruments that make purchases as easy as if you are in zero g, and how it helps boost sales;
• Manufacturers turning into sellers, and how retail can benefit from it
• Innovations that help reach "stratospheric" results
• New loyalty that encourages customers to view stores as new stars
• The "spacesuit" for consumer personal data security – for the client to stay in the orbit of a brand
• and many more.
Reason 3
There you will be able to mingle with professionals who speak the same language with you. Focused on the current state and development prospects of the retail business in Russia, the CIS member states and globally, our PLUS-Forum is attended by about 1,300 leading Russian and international retail experts every year. Do not miss the chance to establish useful contacts!
Among the PLUS-Form participants:
- Lead experts in online- and offline retail
- TOP-managers of retail chains and Internet-stores
- Representatives of banking institutions in Russia and CIS
- Airlines, insurance companies, filling stations, FMCG companies, travel operators
- Top managers of vendors of solutions and equipment
Reason 4
Visiting the PLUS-Forum means a chance to narrate about you company and find new partners.
Alongside the conference, the most representative annual exhibition of specialized equipment, technologies and business solutions from leading Russian and foreign companies will be open. Here you will receive a unique opportunity to visually assess the real efficiency of all solutions on the basis of the corresponding business cases, and to learn how such innovations can be integrated into your own business in a most effective way.
We invite speakers and vendors to take part in the event! Write to konstantin@plusworld.ru or call at: +7 925 005 40 05 (Steering Committee Vice Chairman Konstantin Grizov). 
You can take part in the PLUS-Forum as a delegate. Hurry up, limited number of seats available! 
Participation is free for the staff of retail chains (B2C), online stores, airlines, travel agents, filling stations, HoReCa, relevant ministries, mass media (Forum media partners), if registered before 1 April 2019.
PLUS-Forum Venue: Moscow, Sokolniki Convention&Exhibition Center, Pavilion #4
Learn how it was during the 5th PLUS-Form Online & Offline Retail 2018 from our summary 
materials
, 
photos
 and 
videos
.
Official Forum hashtag: #retailmoscow
Tweet