10:14, 27 March 2021
716 views
Mir payment system presents Mir Supreme cards
The first cards were issued by SMP Bank.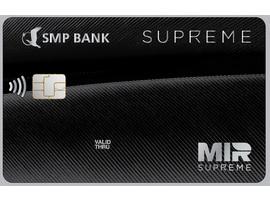 Mir Supreme cardholders will receive a number of significant benefits from the Mir payment system. Among them a 10% cashback for purchases in the categories with the biggest number of cashless payments in the premium segment: supermarkets, restaurants and cafes, taxis. The offer will apply to the entire category as a whole, rather than to individual partners of the Mir payment system.
Mir Supreme will also provide free access to airport business lounges. The holders of premium cards issued by Russian banks can enjoy such access in the digital format, i.e. they needn't present their membership or bank cards at the entrance; the QR code shown from the DragonPass mobile application will be enough.
The advantages of Mir Supreme will be complemented by premium offers from SMP-Bank:
·         Concierge service 
·         €50,000 Euro travel insurance coverage for international trips 
·         Free cash withdrawals at ATMs of any banks 
·         A dedicated SMP Bank helpdesk telephone line
 "Our task was to create a product meeting the needs of the audience – both customers and banks – as much as possible. According to the results of our research, cashback in the categories, based on MCC, is an offer that will be in great demand in the market. We are glad that SMP Bank was among the first to appreciate the advantages of Mir Supreme - in particular, the highest level of interchange fees (IRF) in the entire line of Mir cards," said Vladimir Komlev, General Director of the Mir payment system.
"We are excited to be the first in the "Mir" (a play on words: Mir in Russian means 'world'. Translator's note) always and in everything! From the very start of the Russian payment system Mir, SMP Bank has been its reliable partner and associate. We took part in all key pilots of Mir; I am sure that our partnership will only be growing and strengthening in the future," said SMP Bank Board Chairman Alexander Levkovsky.
 The Mir Supreme card is issued and serviced in SMP Bank under 'World(Mir) of Privileges', a new fee schedule that provides for a package structure of the card service fee. For more detailed terms and conditions of this package please visit the official website of SMP Bank.
 Source: Mir Payment system. 
Tweet