10:18, 28 March 2021
645 views
New cities to appear on ruble notes
This is done in order to represent all federal districts on the banknotes.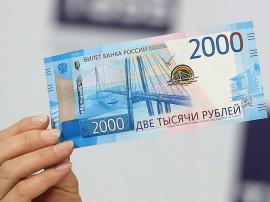 As few as 5 federal districts are represented on the notes today, while North Caucasian, Volga and Ural districts are not, says Deputy Governor of the Bank of Russia Mikhail Alekseev. The banknotes will be modified to include images of Novosibirsk, Pyatigorsk, Nizhny Novgorod and Yekaterinburg, the RBC agency reports.
Krasnoyarsk on a 10-ruble note will be replaced with Novosibirsk, Pyatigorsk will appear on a 500-ruble note instead of Arkhangelsk, Nizhny Novgorod will replace Yaroslavl on a 1,000-ruble note, and a 5,000-ruble note will feature Yekaterinburg instead of Khabarovsk.
The rest of the cities will remain in their place, but the banknotes exterior will be changed. The sights of the respective federal districts will be depicted on the reverse side of the banknotes. Now, for example, a 100-ruble note depicts views of Moscow on both sides.
The Board of Directors of the Bank of Russia has already decided which sights will be depicted on the 100-ruble note. The sights for other banknotes, except for 200- and 2000-ruble ones, will be selected later.
Source: RBC
Tweet