11:07, 25 August 2016
5047 views
MegaFon first launches debit card combined with mobile account in Russia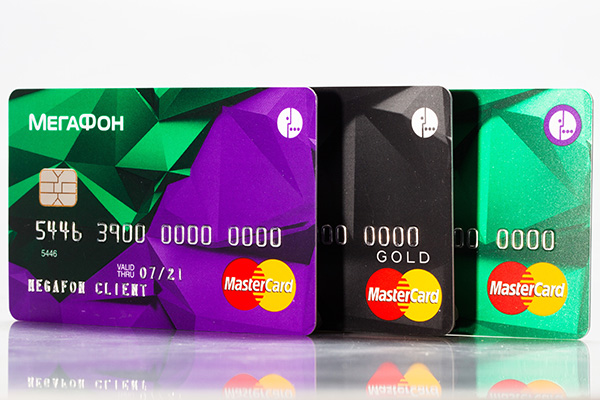 MegaFon has unveiled a bank card like no other in the world. What's special is that the card is linked to its holder's mobile phone balance. Using this card, MegaFon subscribers can pay anywhere that takes Mastercard, the most widely accepted card. Money is debited from their mobile phone balance.
Starting today, the card is available in MegaFon stores for residents of Moscow and the Moscow region, St Petersburg, Yaroslavl, Tver, Kaliningrad, Murmansk, Arkhangelsk and Vologda. It will be available for everyone in Russia from 1 October. The cards are equipped with innovative Mastercard contactless payment technology. The first to obtain this unique new card were 2016 Olympic gold medal-winning fencers Sofya Velikaya, Yana Egorian and Yekaterina Dyachenko, as well as famous saxophone player Igor Butman.
Main benefits of the card
· 8% interest on balance
Thanks to the Mastercard MegaFon card, subscribers will for the first time make money on the balance left on their mobile account. Interest will be paid monthly on account balance at an annual rate of 8%.
· Up to 10% cash back from partners
When paying for goods and services by card, holders will be able to get up to 10% of the value of their transaction back from project partners (in the Shokoladnitsa chain of coffee shops, Wabi Sabi restaurants, Expeditsiya stores and more).
· Commission-free money transfers in Russia
To send money to another MegaFon subscriber, simply top up their mobile account as usual (through a terminal, ATM, online bank, branch, etc.) and the money appears on their card instantly and commission-free. It makes no difference where they are in Russia or the world.
· Service fee of 0 rubles
· Extra protection
MegaFon cards are issued by Round bank. They comply with all bank card security requirements. MegaFon will also activate a free service for all users that blocks unintentional subscriptions. As such, cardholders will be guaranteed protection from unwanted transactions debiting money from their mobile accounts. MegaFon will also activate the Status+ service for all cardholders. If their phone is stolen and the SIM card is replaced in it, access to their account will be automatically blocked.
"MegaFon has given its customers the unique opportunity to make free use of their mobile balance: pay for purchases, transfer money and earn interest. We already have more than 76 million subscribers; all they need to do is get a card, and with it, the key to the money on their mobile account," said MegaFon CEO Sergey Soldatenkov.
"The spreading of cashless payment is good for business, consumers and the country overall – this is why in Russia, we are doing our best for the e-payments to displace cash, and for the payment technologies to be as widely accessible as possible. Together with our partners, Mastercard creates innovative solutions that let solving everyday issues easier, – comments Alexey Malinovskiy, Head of Mastercard in Russia, Kazakhstan, Belarus and Armenia. – With the new MegaFon card, Russians have obtained an extra alternative to choose, and a new interesting opportunity to go cashless by paying with the use of mobile account funds, making savings, receiving cashback, paying in one touch with Mastercard Contactless in a fast and secure way."
How to get a card
It's very easy to get a card. Any MegaFon subscriber can apply for one at any MegaFon store in just a few minutes. All they need is their passport. Each account can have up to ten cards for the whole family. Cards are free for subscribers using the All Inclusive tariffs; for other tariffs, the card costs from 99 rubles. Once obtained, cards must be activated by calling 5555. Any issue with the card can be resolved by calling this number as well. A special mobile app has also been created for users' convenience – MegaFon Bank – which is available on Android, iOS, Windows Phone and on the site bank.megafon.ru. In the app users can track all incoming and outgoing money, make transfers, pay for goods and services and much more.
How to top up
To top up the card, simply top up the mobile phone account balance like usual: through a terminal, automatic top-up, online bank or at a MegaFon store.
How to use it
The MegaFon card can be used to pay like a normal bank card in restaurants, shops, cinemas and anywhere else and also to shop online.
The card might be useful:
· To quickly send money to friends or relatives in another city quickly and commission-free.
· For linking to mobile apps (taxis, games and more).
· As a first card for children. Children will be able to pay for purchases themselves and their parents will receive a text message showing all their purchases.
· To quickly pay people working in the service industry (babysitters, workmen, tutors) and freelancers. Just transfer the required amount to their phone number.
· For travelling abroad: it's easy to top up the MegaFon card – this could be done by your friends or relatives at home for example.
· When shopping online, buying flights and train tickets, booking hotels and in other situations when you don't want to provide your main card number. 
Source: Mastercard
Tweet