18:43, 11 October 2016
4330 views
Cash circulation: from robotization to countering "black box" attacks against ATMs. First summary of PLUS-Forum 2016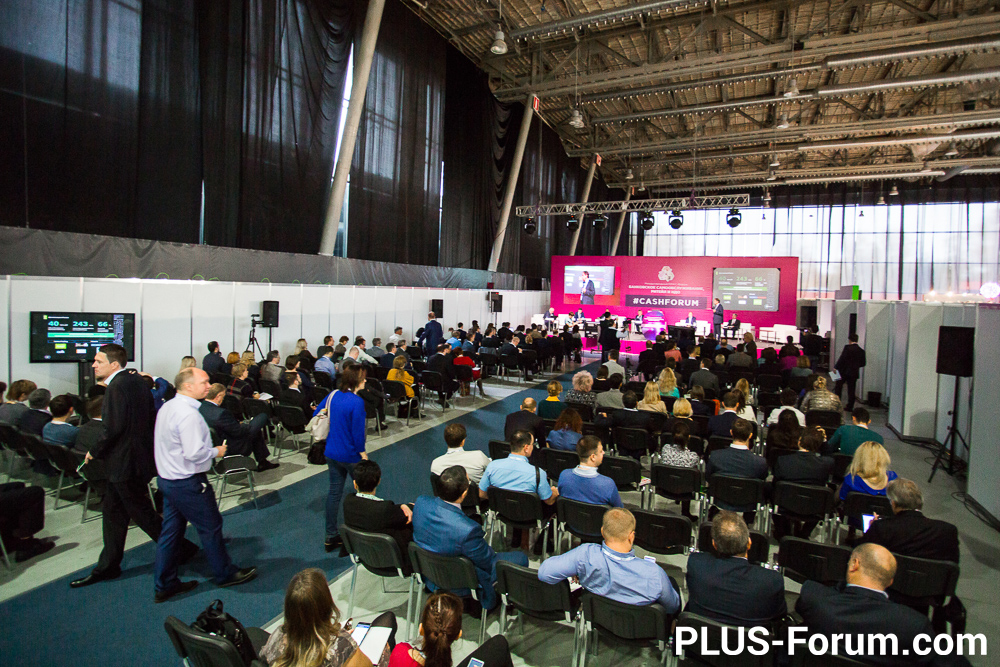 According to the Steering Committee, October PLUS-Forum brought together 1368 registered delegates at Sokolniki Exhibition & Convention Center – a record attendance throughout the history of PLUS-Forums. Among the delegates are recognized market experts, vendors, representatives of major retail chains, relevant ministries and government agencies, etc.  
The conference programme included reports and presentations delivered by 41 speakers, while 57 Russian and foreign companies presented their products and solutions at the most representative industry exhibition organized in parallel to the conference. 
What were the most memorable October PLUS-Forum moments for the market participants? 
• The market is in anticipation of the first commercial solutions for recognizing banknote images. This will facilitate to a large extent the solution of many problems the cash circulation is faced with. 
Arkady Trachuk, General Director, Goznak (the federal banknote and securities printing enterprise).  
• Bank of Russia is making a lot of effort today to support the introduction of new equipment and technology to handle coins. 
Vladimir Demidenko, Head of Cash Circulation Automation and Mechanization Division, Bank of Russia 
In 2016 the total amount of unauthorized transactions in online banking increased to reach 3 trillion rubles.  
Stanislav Kuznetsov, Deputy Chairman of the Board, Sberbank of Russia. 
• Cybercriminals can already read information from the card chip 
Artyom Sychev, Deputy Director, General Directorate of Security and Information Protection, Bank of Russia 
• Currently, mobile payments are the main competitor of cash, especially in emerging markets. 
Gonzalo Santamaria, Vice President, Currency Research 
Over the past 14 years, the total number of euro banknotes in circulation have increased by 4.8 times, euro cash – by 2.33 times, while the cost of servicing the cash circulation – by 1.33 times (for notes) and more than 2 times (for coins) 
Leonor Machado, Chair of the Cash Working Group, European Payments Council (EPC) 
• By 2019, VTB Group banks will increase their total ATM network by 139%. It will be achieved through the increase in the number of Post Bank's devices and procurement of ATMs-recyclers 
Valery Chulkov, Board Member, Director of Operational Department, VTB24. 
• In 2017 Sberbank will open a pioneer fully robotic cash center in Russia 
Alexey Ponomarenko, Senior Managing Director, Cash Circulation Management Centre, Sberbank. 
• For the first time in the modern history of Russia, Chinese yuan "spurted" to become the third among foreign currency counterfeited in Russia 
Igor Miloradov, Examiner-in-Chief, Criminal Expertise Centre, RF Interior Ministry. 
• The Forum exhibition saw the first public presentation of Scan Coin by Gamma-centre. Earlier, the industrial equipment complex for coins packaging was installed at the Moscow and Saint Petersburg Mints of Goznak. 
• Fraudsters are increasingly moving away from skimming to "black box" attacks (the dispenser is directly controlled through a physical connection of a special device to the ATM) and physical attacks on ATMs 
Alexey Golenischev, Head of e-Business Monitoring Directorate, Alfa-Bank 
• By 2018, Inkakhran will become Russia's largest commercial carrier of money and valuables 
Mikhail Belousov, Deputy Chairman of the Board, Inkakhran. 
• Replacement of the cashiers at public transport companies with automatic deposit machines, receiving cash from drivers, will result in payroll budget savings by up to 80% 
Dmitry Pyankovsky, CTO, Unified Transport Company (UTC). 
• Quantum Systems in collaboration with partners - Glory Global Solutions and Kuka – presented CashMaster, the world's first robotic recount facility intended for cash collection centers automation and equipped with Glory sorting machines (you can see the video using this link). 
This year the Forum was focused on the role, place and importance of banking services, infrastructure and cash circulation in the today's consumer communication model. The existing cash handling ecosystem and self-service banking systems (ATM, recyclers, kiosks, etc.) were discussed as well. 
In the near future you will be able to learn more about the first results of the PLUS-Forum, including the key presentations and reports of the first and second day. Later on, a detailed review of the conference presentations and a detailed report from the October PLUS-Forum exhibition will be offered for your attention. 
During the event video and photo coverage was performed; speakers' reports and interviews with the Forum participants were recorded. All video and photo materials will be available soon in the "Photo" and "Video" sections of the PLUSworld.ru portal.  
All delegates who filled out PLUS-Forum questionnaires will get access to all presentations of the speakers through a link sent to the email address specified in the questionnaire.  
Global Sponsor: Gamma-Centre together with world-class suppliers of bank equipment: Laurel ARCA, SBM and Spinnaker. 
General sponsors: Gemalto, SafeNet, JCM Global, DEEP 2000, KALIGNITE. 
Chief Sponsors: Samsung Russia & CIS HQ, Ingenico Group, NCR Corporation, Fiserv, Giesecke & Devrient - LOMO, ZAO. 
Oktoberfest Sponsor: CI Tech Components AG  
Partners: OKI, Europeum, SFOUR, Best Quality Design, Cassida, QIWI, Crane Payment Innovations, Abloy, Lanter, Alagard, StrongPoint, Unicum, Quantum systems, NBK Trade, MAYKOR-BTE, LAN ATMservice, Baltic Light, GRG Banking, Saltoro, VisionLabs, Profindustry, Glory Global Solutions, SAGA Technologies, HENDZ holding, 6Q, SaleServiSolutions, Delta Systems, Nautilus Hyosung, Abbrevia, Innovative Technology, DORS, Answer PRO, Indemit, Realta, Z-Card, Sensis, Ingosstrakh, CFT, i-Retail, CityNet, Interactive Group, Iskra, Verifone, Third Sense, IT Service, Atlantic Zeiser, Inline Group. 
General Internet Partner: Banki.ru 
The Steering Committee would like to thank all the participants of the October PLUS-Forum 2016 and invites to further cooperation at the 9th International PLUS-Forum "Cash Circulation + Self-service. Banking and Retail 2017" to be held on 4-5 October 2017. 
We remind you that our next event – the 4th International PLUS-Forum "Online & Offline Retail 2017" – will be held at Sokolniki ECC, Moscow, on 18-19 April 2017. 
 Also, we look forward to seeing you at the 8th International PLUS-Forum "Cards, Payments and Mobile 2017" on 7-8 June 2017!
Tweet