11:51, 9 June 2018
6674 views
World Cup 2018: how to pay for purchases at stadiums? Payment Memo from PLUSworld.ru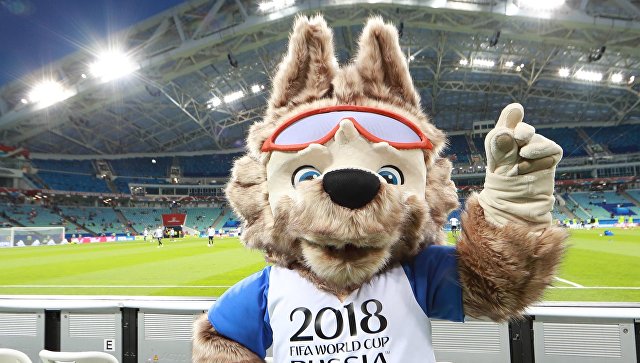 PLUSworld.ru has prepared a special payment memo for fans to make their stay at the football tournament more comfortable, safe and increase their financial awareness.
As is known, on June 14 2018 FIFA World Cup 2018 starts in Russia. The stadiums hosting the matches will turn into a non-cash payment zone. It means that both cash and alternative payment methods will be accepted. 
Please be reminded that the official bank of FIFA World Cup 2018 is Alfa Bank. Visa is the Official Payment Services Partner of FIFA.
 How to make payments at stadiums? 
At stadiums, one can pay cash or by Visa cards. If a fan has no Visa card, there is an option to receive a prepaid Visa card from Alfa Bank right at the stadium. Another option will be to link cards to special payment rings or bracelets. Important! No other payment products will be accepted at the stadiums throughout FIFA World Cup events! 
 Where do I get the card? 
One may receive a prepaid Alfa bank Visa card at Visa client support desks at each stadium in commercial display zones three hours before a match. Passports will not be required in the procedure of card registration, since cards will not be personified. Cards will be given in PIN-envelopes. Users will have the option to transfer funds from their accounts with other payment systems to the Visa card via ATMs (Alfa Bank will install about 150 ATMs at 12 stadiums) or smartphones. The card will support contactless shopping: just tap it on a reader. At that, no PIN code entry will be required for a payment of up to 1000 rubles. 
Payment rings and bracelets: how to use them?  
Payment rings and bracelets which will be sold at every FIFA World Cup stadium could also be used for contactless shopping. However, the devices will be ready for operation only if linked to a Visa card. How to obtain a Visa card, see Section 2. The ring will cost 3000 rubles. Bracelets will feature logos of specific matches and become a priceless souvenir for each fan. Important! Unlike cards, bracelets will be distributed with a negative balance of -1000 rubles. To turn the souvenir into a payment tool, one will have to top it up with a desirable amount plus 1000 rubles via ATM or a smartphone. 
When World Cup 2018 is over. Should the fans keep the payment devices as a souvenir or will it be still possible to use them afterwards?  
The prepaid card will be valid until January 2019. Payment rings and cards linked to them will be valid for three years. Payment bracelets and cards lnked to them will be valid for 18 months. In addition to football stadiums, the rings and bracelets with the cards linked to them can be used for payment at any point of sale supporting contactless payments. To use the card beyond Russia, one will need to undergo complete identification procedure at one of Alfa Bank's branches. 
A payment service issue occurred at the stadium. Who do I turn to? 
Any questions from football fans related to payment services will be answered by Team A which will represent Alfa Bank at the stadiums. Team A represents more than 250 bank employees who won the all-Russian internal corporate competition. Team A members will render financial and consulting services to fans from all over the world in the cities hosting FIFA World Cup 2018, including the issue of prepaid Visa cards to the fans on behalf of Alfa Bank and offering bracelets for contactless payments in order to make the stay of the guests comfortable as much as possible. Team A members will be easy to recognize via their exclusive trendy uniform created for Alfa Bank by Russian designer Igor Chapurin. The face of the collection is Russian athlete and FIFA World Cup 2018 Ambassador Laisan Utyasheva. 
 How to avoid becoming a fraud victim when using e-payments 
The Bank of Russia issued special recommendations for FIFA World Cup 2018 for football fans regarding secure use of bank cards, payment terminals and ATMs: 
 - do not transfer your bank cards to any third persons for transactions;  
- use ATMs placed at safe locations - for instance, at public offices, bank branches, major shopping centers, hotels, airports and similar facilities operating under the supervision of security services; 
- do not use devices requesting your card's PIN code to enter the premises where the ATM is installed; 
- please make sure that no suspicious devices, not required by the design, have been placed on the ATM. If such devices are detected, namely keyboard inserts, video cameras in the card slot and similar devices, please inform the bank about the incident using the phone number available on the ATM. 
 - enter your PIN code so that no people standing near could see it; for example, shield the keyboard with your hand. - do not use any improperly operating ATMs (for example, if the standby mode lasts too long or the device reboots spontaneously.  
- keep the receipts printed by ATMs in order to compare the amounts with the account statements if required. 
- do not turn to strangers for advice if any problems in ATM operation occur. In this case, it is necessary to get in touch with the bank which own the machine using the phone specified on it. 
- should ATM fail to return your card, inform the respective bank by calling the number specified on the machine.
Tweet