16:10, 26 March 2019
2296 views
Moscow Metro offers contactless fare payments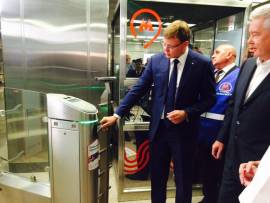 Contactless terminals for transit fare payments will be available at every station of the Moscow Metro, according to the Mayor's official website. 
Every second or third terminal at each station will support contactless payments by a bank card or smartphone. This will make the fare payment process much faster to allow the passengers avoid waiting in queues at ticket counters. 


Currently, the Moscow Metro places over 550 contactless ticket gates with special stickers, with the number of such terminals to grow. 
Sixty six next gen metro trains, named Moskva will be added to the Moscow Metro fleet in 2019, REGNUM news agency reported. 
Tweet