10:24, 29 March 2021
666 views
Revolut head says they have no plans to enter Russian market
Nikolai Stronsky noted that he would not like to compete with the Chinese, Russians and Americans, since these nations have the most powerful companies and an aggressive business environment.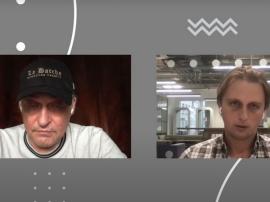 He told Oleg Tinkov about this in the Business Secrets program.
When asked about the capitalization of the Telegram messenger, the Revolut founder named a figure of $50-100 billion. In his opinion, the messenger is not popular in Western countries, because this market share was initially occupied by WhatsApp.
Stronsky also gave a piece of advice to German Gref, head of Sber. The employees of the state-owned bank are "too relaxed" for doing business, Stronsky believes, and 5-10 years later, Sber may face the same problem that big banks in the USA and Great Britain experienced a while ago.
"When there are a lot of resources, little competition, no continuous influx of young blood, then everything is declining a little bit," said the founder of Revolut.
Source: vc.
Tweet