18:23, 10 October 2017
4775 views
PLUS-Forum Cash Circulation + Self-Service. Banking and Retail. First results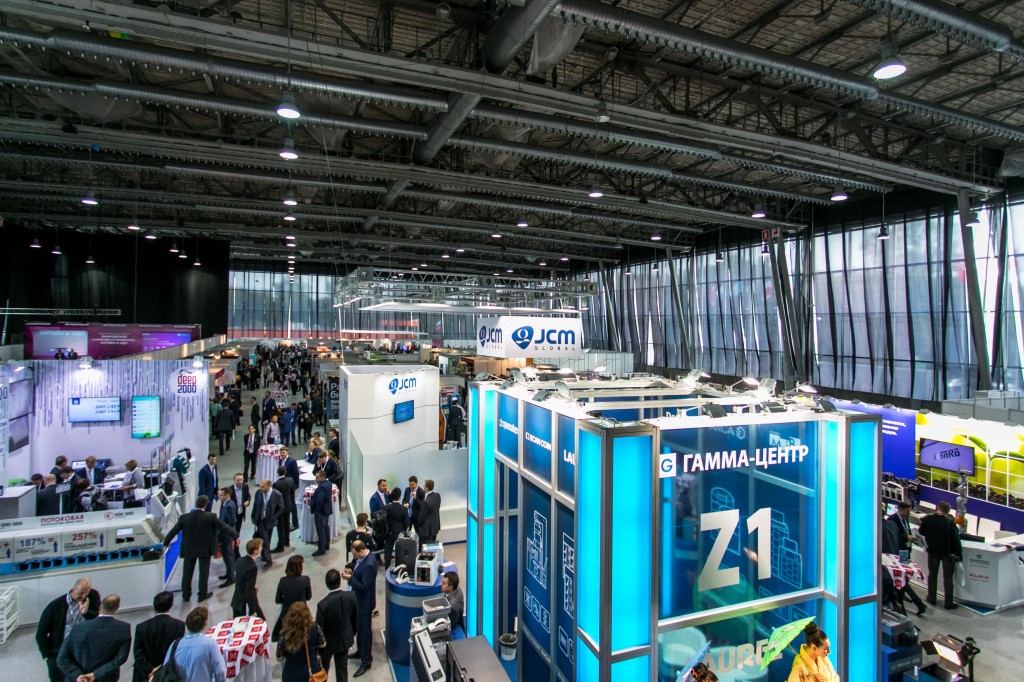 International PLUS-Forum 
"Cash Circulation + Self-Service. Banking and Retail 2017 "
, which took place on October 4-5, was closed yesterday in Moscow.
The Forum proved once again its status of one of the most anticipated events in the industry with the continuously growing audience from year to year. This time the Forum gathered an unprecedented number of 1,400 delegates within the walls of Sokolniki Exhibition and Convention Center (ECC). Among them there were recognized experts of the Russian and foreign markets, representatives of banks and regulators, vendors, representatives of largest retail chains, relevant ministries and agencies, law enforcement agencies, etc.
The working agenda of the Forum's conference included presentations of 57 speakers. 71 Russian and foreign companies presented their products and solutions during the conjoined exhibition, the most representative one in the industry.
Key Forum events:
    Sberbank announced its intention to create a seamless cash circulation ecosystem for all market players. This was announced by Deputy Board Chairman of Sberbank Stanislav Kuznetsov. In the near future Sberbank will establish a special lab, and S. Kuznetsov invites representatives of all stakeholders to get together on October 26, 2017 and discuss this initiative within the framework of the Cash Circulation Management Center of Sberbank of Russia.
    Goznak outlined new requirements for banknotes necessary to ensure the demand for cash amid the current development of the payment industry. According to Georgy Kornilov, Head of R&D Institute under Goznak (the federal banknote and securities printing enterprise), such requirements include the following:
    Ability of verification using mobile devices
    Machine-readability
    On-line verification
    Unauthorized access protection system
    Traceability
    The Bank of Russia provided recommendations as to how to improve the availability of financial services for people with disabilities. According to the Head of financial inclusion methodology and risks analysis division, Bank of Russia, Yuri Bozhor, barriers to obtain banking services exist not only for people with disabilities, but also for elderly people, as well as uneducated part of the population. In total they face five barriers: access, interface, attitude, literacy and cost.
    70% of Russian population has demand for cash, 108 million people need it. This data was provided by Kirill Smirnov, Head of digital economy at R&D of NAFI Analytical Center. According to him it mostly concerns senior citizens, population of small towns and remote regions.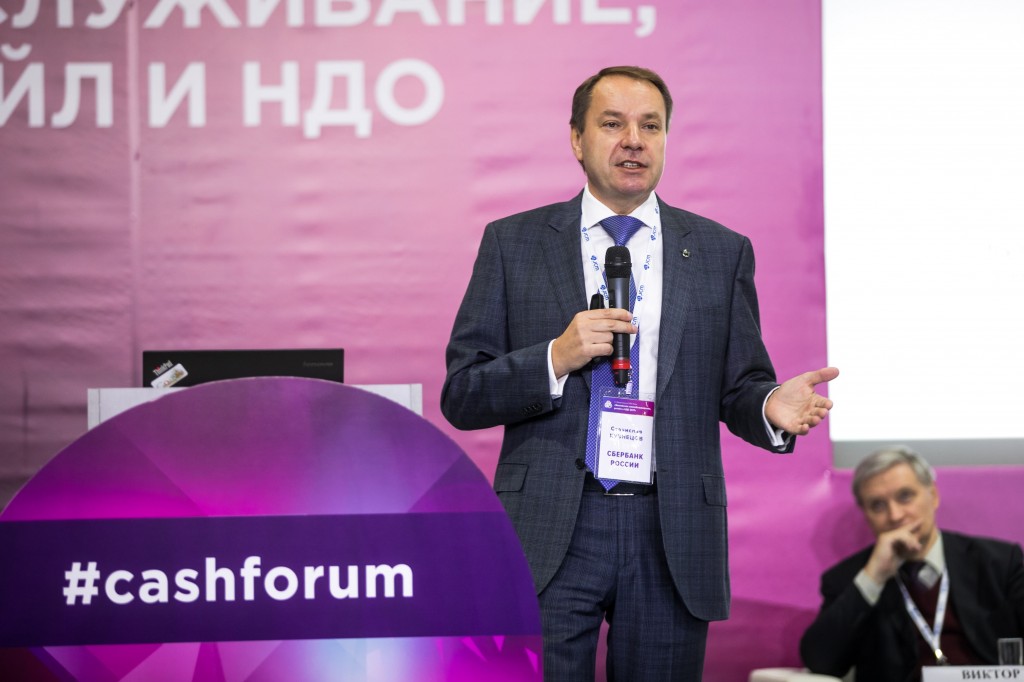 Samsung Pay, Apple Pay and Android Pay will be accepted by 10 thousand ATMs of Sberbank by the end of 2017. According to Danil Shishnev, Executive Director, Head of self-service business development department of Sberbank, «the goal is to launch all types of Mobile pay by the end of the year: Samsung Pay, Apple Pay, Android Pay». All existing ATMs will be equipped with NFC-readers, and new self-service terminals with contactless functionality will be installed.
    Alfa-Bank implemented the functionality of ordering large amounts of cash for individuals in its Alfa-Mobile mobile bank. According to Nadezhda Malyukh, Cash Circulation Director of Alfa Bank, to receive cash now it is enough to fill in a special form in the application and indicate the branch address to which the bank will deliver the money. 
    Robotic counting sector CashStream - the first element of unmanned technologies in cash centers was appreciated in action by guests and participants of the Forum. Before the end of 2017 the first ten complexes will be put into commercial operation in 6 Russian cities, 6 of which are already operating. The solution was presented by Quantum Systems.
    Moscow Metro will incorporate Android Pay and Samsung Pay in its mobile app in 2017-2018. This was announced by Chief specialist for mobile and ticketing solutions of Moscow Metro Andrey Lyubushkin. Now the application already supports Apple Pay.
    Recyclers are set to capture 30% of global ATM fleet by 2020. This forecast was given by Sam Blackwell, Analyst of RBR. According to him, the utilization rate of ATMs in Russia has grown by 16% in the recent 5 years (2012–2016), whereas the growth rate of cash-in transactions is higher than that of withdrawal activities.
    A pioneer AI-based cash management solution was announced. According to Fabrizio Mineo, Chairman of the Board of Sikelia Service, the Roy solution enables the groundbreaking possibility of an operator-free Help desk driven by human supervision. ROY system delivers all necessary information to any communication device of the decision-maker – be a tablet, smartphone or laptop.
  A unique electronic cashier with the recycling function which radically changes the format of the front-line service was demonstrated at the exhibition. According to Alexey Fomichev, Deputy Chairman of the Board of Directors of Gamma-Center, the electronic cashier Laurel Z 1 has been tested in the certification center of the Central Bank of the Russian Federation and can be delivered to interested users in the coming weeks.
  A safe CIT transportation concept using SoftCar special containers was announced. According to StrongPoint company representatives, this concept removes the need for armed guards and armored vehicles.
    A biometric identification system with face recognition technology based on Toshiba algorithm was presented. According to representatives of Recfaces, the introduction of biometric identification will make it possible for banks to save not only on card issuing, but also to speed up the process of customer access to banking services.
    A new generation of ATMs with the recycling function was announced which are able to accept up to 18 thousand notes. This solution was presented by Europeum Group, a distributor of the Japanese OKI Corporation.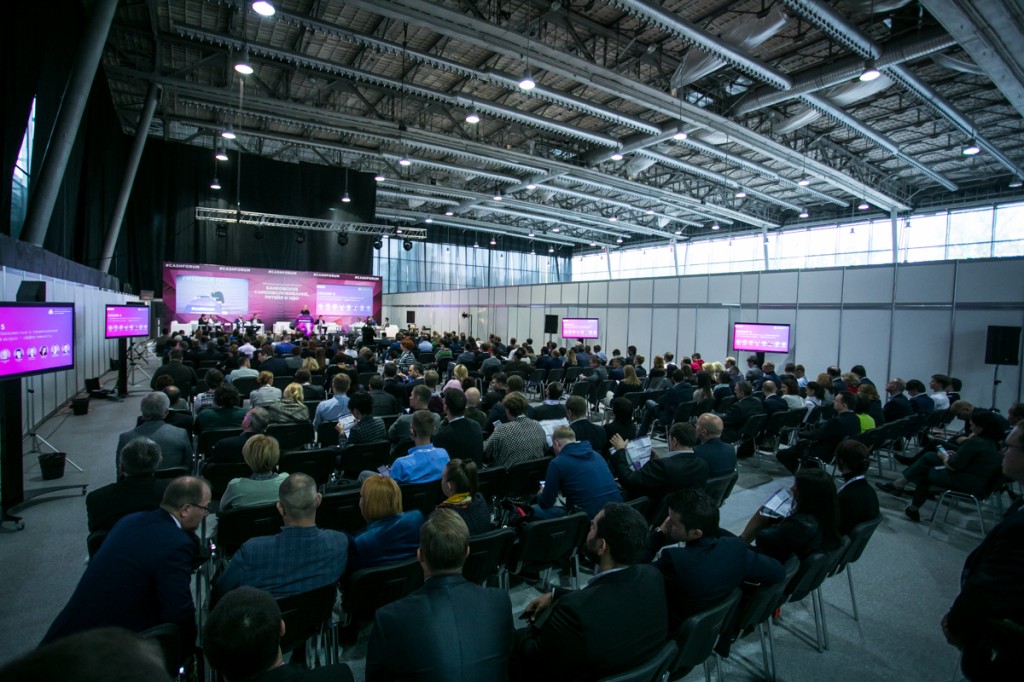 There are already 20 producers of bitcoinmats (bitcoin dispensers) in the world. Alexey Galkin, CEO of the Estonian company DeCripto informed the delegates about this fact. The leaders of this industry are located in the U.S., Portugal, Czech Republic and Canada.
You can see a detailed overview of solutions, products and technologies presented at the exhibition on the information portal website PLUSworld.ru in the near future.
Video and photo coverage of speakers' presentations and interviews with Forum participants was performed during PLUS-Forum. All video and photo materials will be available soon at the PLUSworld.ru portal in the sections "Photo" and "Video".
All delegates who filled out PLUS-Forum questionnaires will get access soon to all presentations of the speakers through a link sent to the email address specified in the questionnaire.
Global Partner: Gamma-Center. The company cooperates with the following world-class vendors: DoCash (Germany), Scan Coin (Sweden), Laurel (Japan), HYUNDAI MIB International (SBM, South Korea), ARCA (CTS cashpro, Italy), Multivac (Germany), EBA (Germany), Spinnaker (UK), Mettler Toledo (Switzerland), Glory (Japan) and many others.
General Sponsors: Kalignite, JCM Global.
Cheif Sponsors: Fiserv, DEEP2000, Verifone, CFT, Ingosstrakh, Thales e-Security, DNA Distribution, Sikelia Service.
Partners: Ingenico, SFOUR, LG, Unicum, StrongPoint Cash Security, VisionLabs, ZAO Gisecke & Devrient-LOMO, PBF Group, Cassida Eurasia, Crane Payment Innovations, Delta Systems, CityNet, Innovative Technology, Sensis, Rielta, Nautilus Hyosung, Third Sense, GLORY Global solutions, GRGBanking, LAN АТМservice,  NBK Trade, LANTER, Abloy, Consaltica, OKI, Europeum, Julong, Hendz holding, Quantum, Maykor, BTE, LVO, Сash-Machines, Damask, DSSL, Ladon N, VIRTA Logistic, QIWI, Diebold Nixdorf, SAGA Technologies, NCR, Toshiba, RecFaces, Smit, iiyama, Profdisplay, Antor, Tevian, KUKA, Tactilion, Saltoro, Vocord, Litebox, Indemit, Z-Card, MAJOR Auto, International Payment System '123'.
Technical Sponsor: CTC Capital, IMS.
SMS sponsor – MTT.
The PLUS-Forum Steering Committee expresses gratitude to all participants of the October PLUS-Forum and invites you to continue cooperation at the 10th International PLUS Forum "
Cash Circulation + Self-Service. Banking and Retail"
 scheduled for November14-15, 2018.
We'd like to remind you that our next event – the 5th International PLUS Forum 
"Online & Offline Retail"
 will take place in Moscow in Sokolniki ECC as soon as March 14-15, 2018.
Official Forum hashtag  #cashforum
Tweet