17:13, 24 April 2019
3207 views
PLUS-Forum "Cards, payments and mobile 2019" programme update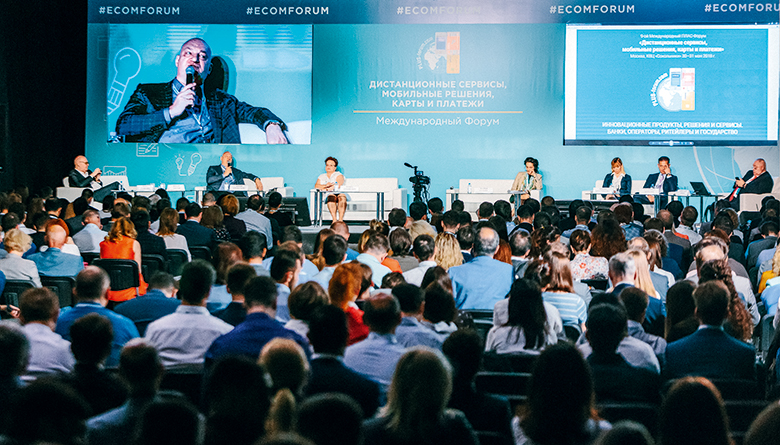 The Steering Committee of the 10th anniversary International PLUS-Forum "Cards, Payments and Mobile 2019" to be held at the Sokolniki Exhibition and Convention Center in Moscow on May 29–30, presents an updated programme.


The Forum Conference programme will include six sessions.


Session 1. Payment industry and retail banking. Government regulation during the digitalization period. Transformation of strategic priorities.

Session 2. Acquiring at the next development stage. New business-models. Concepts and implementation.

Session 3. Technologies and services as growth drivers. Where does the evolution conduce us?

Session 3A. Transit projects. Housing and public utilities. Social programs.

Session 4. Banking 2020. Ecosystems rivalry. How does the remote identification change the market?

Session 5. Security. New threats – new standards to counter them. Artificial intelligence vs social engineering?

Session 6. Today and tomorrow of the consumer experience. Transformation of services. The best cases and practices.

The speakers of the PLUS Forum:


Jeremy King, International Director - Europe, PCI Security Standards Council
Victor Dostov, Chairman, Electronic Money Association
Denis Sotin, Board Member, CIO, Rosbank
Sergey Sheikhetov, Head of Qualitative Research in the Sub Saharan Africa countries, at the Kantar company
Denis Khrenov, Head of Acquiring Development, Alfa-Bank
Christina Skuratovskaya, Marketing Director, Alipay Russia
Illarion Yalovenko, Head of Financial Services Development, TELE2
Lilia Vladykina, Analyst, Euromonitor International
Alexey Kudachkin, Product Manager, Department of Information Technology Innovations, Gazprombank
and many others.

If you wish to speak at the conference, please email to: konstantin@plusworld.ru / call +7 925 005 4005 (Konstantin Grizov) or complete an e-application on the web-site.
The General Sponsor of the event: QIWI.
PLUS-Forum Chief Sponsors: Web Shield Limited, DNA Distribution, Thales, Evotor.
Confirmed partners of the Anniversary PLUS-Forum are the leading companies of the banking sector from Russia and abroad: Skantek, SIM2M, Ostkard, Z-Card Russia, Best Quality Design, Rice Microelectronics Inc., Shenzhen Suprint Smart Technology Co Ltd, OneSpan, Regula, Tevian, Hangzhou Sunyard Technology Co. Ltd., Shenzhen Zhengtong Electronics Co., Ltd, TSYS, Cryptotech, NovaCard, Dataphone, Fdata, Saltoro, SZZT, Feitian.
Other companies have joined us recently: Guangdong Kede Tech Co Ltd, RightScan, Urovo, RBK Money, ISBC, Cashoff, Wallet One.
If your company also decided to become a sponsor or partner of our event, apply by submitting an e-form on the event website.
The PLUS-Forum is an ideal opportunity to present your solutions and products to the target audience, whatever format of participation you choose.
Take your place among the market leaders now!
You can get registered as Forum delegate here.
Follow us on the PLUSworld.ru information portal and join as friends in Twitter, Facebook and YouTube.
Official hashtag of the Forum #ecomforum
Tweet