10:42, 10 October 2019
1267 views
Over 27 thousand trips on land transport are paid by bank cards and smartphones daily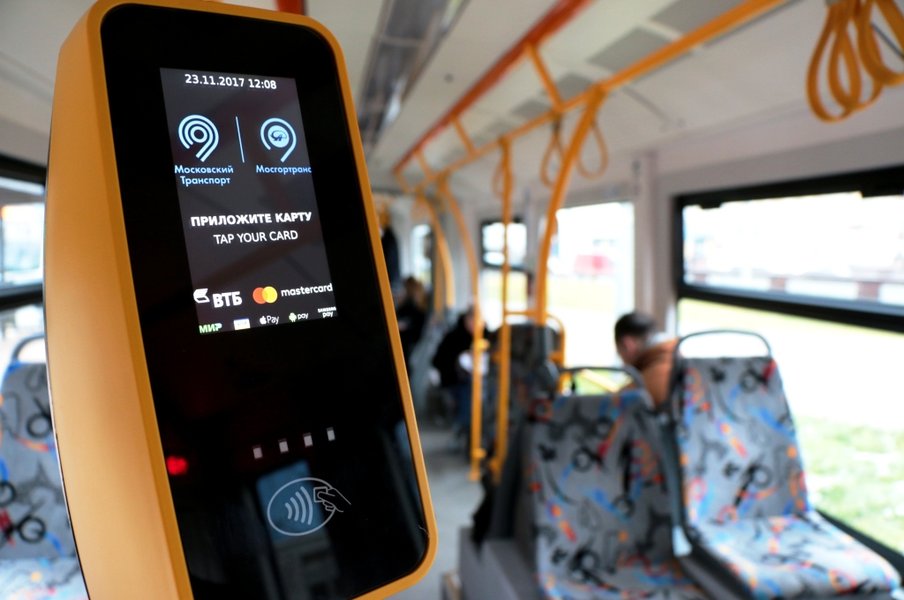 Over 27 thousand trips per day are paid by Moscow land transport passengers using bank cards and smartphones that support contactless payment functionality. The service is already available in all buses, electric buses, trolleybuses and trams of the operator of Moscow passenger transport system (Mosgortrans).
"We are improving the fare collection system making the trips in land transport more comfortable for our passengers. To pay contactless, you need to tap a bank card or smartphone on the validator that displays payment systems' logos. The service is gaining popularity: it is used more than 27 thousand times every day," says Kirill Kislyakov, director of the Revenue and Control Service of Mosgortrans.
Passengers can pay using cards and mobile devices supporting contactless payment function such as PayPass, payWave, Apple Pay, Google Pay, MIR, etc.
The fare paid by a bank card is 42 rubles ($0.65) – 13 rubles less than the price of a ticket bought from the driver. Fare payment control routine is familiar to passengers. It is enough to tap a card or smartphone on the validator to see a validation mark displayed on the terminal screen. At the same time, the terminal does not interact with confidential card data.
It should be noted that Mosgortrans keeps working to simplify fare collection procedures. 15 small-size ticket vending machines were installed at passenger shelters in Moscow. The machines help reload Troika cards, social cards of school and college students, and activate a remote payment.
Tweet