18:06, 8 July 2016
6322 views
First MIR-JCB cards presented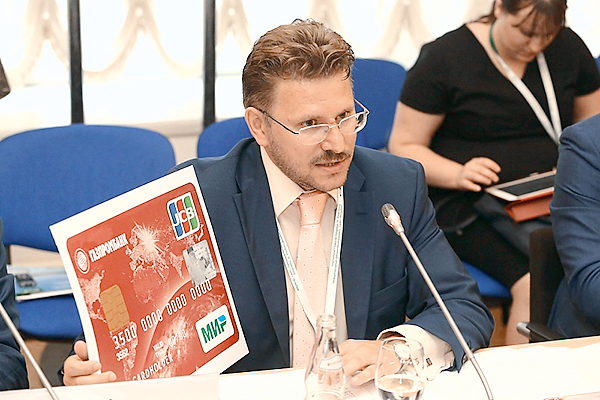 Vladimir Komlev, General Director of NSPK (National Payment Card System) JSC, and Alexey Maslov, Deputy General Director of JCB International (Eurasia), presented the first co-badged Mir cards. Starting from August, Mir-JCB cards issued by Gazprombank will be available at the bank's offices.
Mir-JCB co-badged cards were presented during the round table "Mir Card. Making national payment instruments popular and widely available" that took place at the International Financial Congress in St. Petersburg.
Alexey Maslov, Deputy General Director of JCB International (Eurasia) LLC, presented to the event audience the Mir-JCB co-badged cards, which will be issued by Gazprombank: "The card will be used in Russia as a Mir Card at retail outlets and ATMs accepting the national payment system cards, and as a JCB card at other retail locations, both inside and outside the country.
The cardholders will be able to enjoy benefits offered by JCB in more than 190 countries and to pay with the card at more than 30 million locations. I want to note that the project implementation speed and the level of our cooperation with NSPK are absolutely unique, and we appreciate greatly this cooperation."
Gazprombank, the issuer of Mir-JCB co-badged cards, was among the first Russian banks that joined the Mir payment system, and the first one to issue Mir-Maestro cards. This allows the Mir cards to be used in a broad merchant network both in Russia and abroad. In July 2015 NSPK and JCB payment system signed a letter of intent to issue co-badged cards. Supported by Gazprombank that joined the project in April 2016, the card will be available to all residents of the country as early as the next couple months.
"International development of the Mir national payment system is one of the mid-term priorities, and the launch of the Mir-JCB co-badged cards issue is an important event in this area," says Vladimir Komlev, Board Chairman, General Director of NSPK JSC. "Cooperation with JCB, a major global payment brand, expands the Mir card acceptance geography and facilitates payments for goods and services for the holders of the national payment card who travel abroad."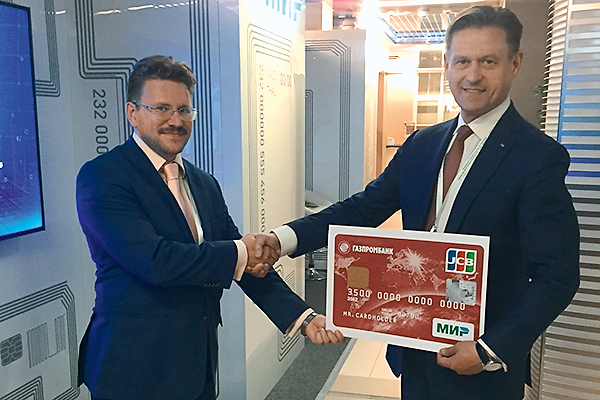 "We have cooperated with JCB since 2014. During this time, Gazprombank completed all necessary certification procedures and started issuing and acquiring cards of the Japanese payment system. The bank was among the first to cooperate with NSPK in the Mir project, which we believe has a huge development potential. We are confident that the new co-badged card will be popular with our customers as a modern and convenient payment instrument," says Sergey Ogurtsov, Vice-President, Head of Bank Cards and Retail e-Banking Department, Gazprombank (JSC).
Says Takashi Suetsugu, General Director of JCB International (Eurasia) LLC: "JCB is proud to be a partner of the national payment card system of Russia. We have accumulated significant international experience, with a number of successful co-badging projects implemented in various countries. Such projects started in 2005, first in China, then in South Korea, Germany and Pakistan, with more projects to be launched in the near future in India and Myanmar. JCB contributes to the project its international expertise, new technology and advice in all relevant areas, ranging from the operating system settings to product development. JCB is focused on providing the top-level services to customers around the world, first and foremost in Asia, where our customers can enjoy additional benefits during their trips, including, inter alia, discounts, special prices, gifts, access to JCB's VIP-lounges and exclusive services for the holders of premium cards. These comprehensive and well-designed programs allowed JCB cards to gain international recognition as a strong and reliable payment brand, and achieve high level of customer loyalty. All these benefits will be available to the holders of Mir-JCB cards of respective categories."
Sources: PLUSworld.ru
Tweet