18:27, 20 August 2021
1388 views
First digital Islamic card Tayyab launched in Kazakhstan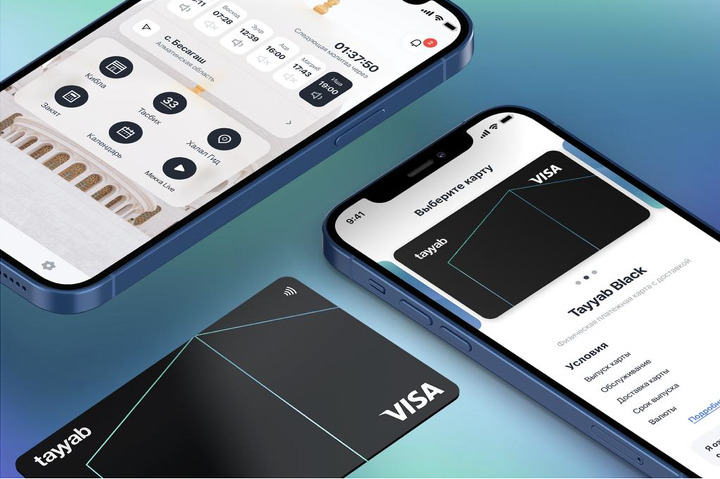 The benefits of the first digital Islamic card Tayyab include full Shariah compliance, instant free issue, no service fees, no-fee contactless payments via Apple pay and Samsung pay.
Compliance with the principles of Islamic finance has been confirmed by the international Shariah Council Shariyah Review Bureau (Saudi Arabia), as well as the Spiritual Directorate of Muslims of Kazakhstan.
Balances on customers' cards are not used to generate interest income, no interest is accrued on them.
You can have a card issued in a minute after downloading the Tayyab mobile application from the Apple Store or Play Market. Instant transfers through Apple Pay and Samsung and cross-border contactless payments using Pay wallets will be available immediately. If necessary, you can also order a plastic VISA card to be issued and delivered.
You can store money in four currencies: Kazakhstani tenge, US dollar, euro, Russian ruble and withdraw cash at any ATM in the world.
The card was launched by the first Kazakhstani Islamic fintech Tayyab in partnership with Bank RBK and VISA. Dubai Fintech Ventures is one of Tayyab's institutional investors.
"In addition to the ease of use of the financial functionality which is in line with the latest global trends, we offer our users a convenient service for the Islamic way of life. For example, it is the Tayyab application alone, where you can easily find the nearest mosque, namazkhan or halal cafe. The application also includes namaz and azan prayer times, qibla compass, dhikr counter, zakat calculator and much more," says Tayyab CEO Daniyar Uspanov.
Besides, the first digital Islamic card Tayyab is not intended for payment in casinos, as well as in any gambling and lottery entities, specialized stores selling alcohol and tobacco products, while the restriction does not apply to department stores selling groceries. The card is not intended to pay for goods and services in bars and nightclubs either, but the restriction does not apply to restaurants and cafes.
Source: forbes.kz
Tweet