15:02, 22 September 2017
2530 views
Quantum Systems will present advanced solutions opening the era of 'unmanned' technologies in cash circulation processes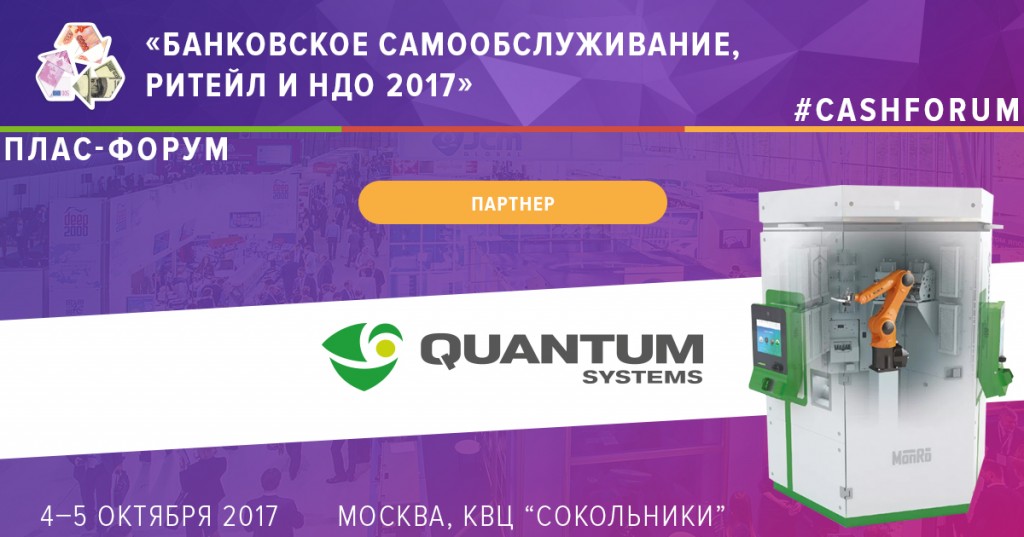 The forum's participants will have a unique opportunity to get aqcuainted with innovative developments of the pioneer in the field of cash circulation process robotization, and bank branch automation. Together with its partner KUKA, - a world leader in industrial robotics, Quantum Systems will demostrate both industrial soultions embodied in specialized robotic cells, as well as fundamentally new ideas designed to optimize the entire cycle of cash circulation. 
At the same exhibition we will also present a unique robotic complex created in cooperation with GLORY. The complex was developed on the basis of a CI-200 recycler and a collaborative robot KUKA, which is safe for human-robot collaboration. This solution embodies several potentially automatable tasks:
- robotic assistant of a bank branch operator;
- robotic operator for client transactions in self-service mode;
- robotic area for cash register preparation in retail;
- robotic area for client's cash preparation in a cash centre. 
Visitors to the stands of the companies Quantum Systems and GLORY are offered to get to know and even to touch these solutions created within the framework of a global concept of end-to-end automation and traditional process optimization. They are designed to not only improve the quality of implemented front- and back-office processes, but are also contributing to the successful adaptation of the banking sector to the realities of a new technological era.
Quantum Systems presenting new breakthrough solutions for the financial sector to a wide audience at PLAS-forum has already become a tradition. Do not miss an opportunity to be one of the first to find out about the most progressive views of cash circulation development.  
Tweet