13:55, 15 September 2017
2809 views
Forum "Cash Circulation + Self-Service. Banking and Retail": Over 50 Speakers and 8 Sessions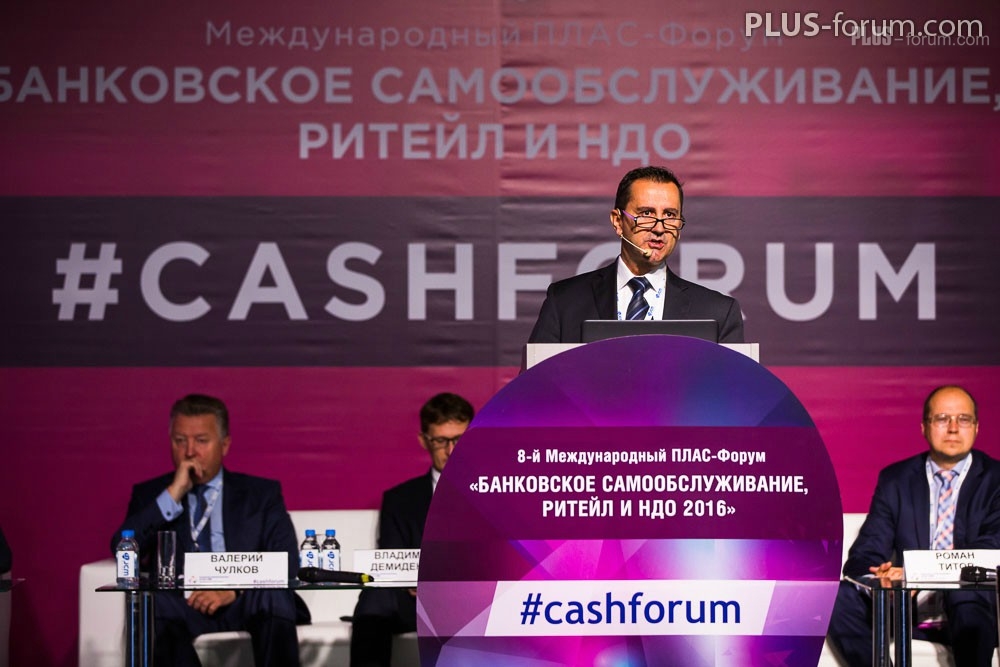 The preparations for IX International PLUS-Forum "Cash Circulation + Self Service. Banking and Retail" are at the very height!  The major event of this autumn for the financial market will take place on October 4 and 5!
The Forum will be dedicated to the current state and development prospects of cash circulation, banking and payment industry in Russia and globally.
During the Conference that will be held throughout the both days of the Forum, industry experts as usually will share their experience, inform about the results of the most ambitious and promising projects, highlight current problems, and present their vision of the industry development.
The key speakers of the PLUS-Forum :
Georgy Kornilov, Head of R&D Institute under Goznak (the federal banknote and securities printing enterprise);
Danil Shishnev, Executive Director, Sberbank;
Eric de Putter, Managing Partner, Payment Redesign;
Tunahan Öz, ADC Marketing Supervisor, Kuveyt Turk Participation Bank;
Mustafa Dereci, Product Development Group Manager, Kuwait Turk Participation Bank;
Samuel Blackwell, analyst, RBR;
Yuri Bozhor, Head of financial inclusion methodology and risks analysis division. Financial services consumers and minority shareholders protection department, Bank of Russia;
Alexey Galkin, CEO, DeCrypto;
Sergey Doschenko, Consulting Director Deputy, Gartner;
Maxim Daryoshin, Head of Self-service Systems Development Unit, Alfa-Bank;
Elena Dudareva, Head of Settlement and Passive Products Sales Department,  VTB;
Ivan Patkin, Head of SME eCommerce Department, Promsvyazbank;
Elena Tyatenkova, Network Department Director, BINBANK;
Nadezhda Malyukh, Cash Circulation Director, Alfa-Bank;
Dmitry Erzamaev, Head of Revenues and Control Department, Mosgortrans State Unitary Enterprise;
Aleksey Golenischev, Head of eBusiness Monitoring Directorate, Alfa-Bank;
Aleksey Ipatov, Head of Operations Analysis and Monitoring, Operational Department, VTB24;
Alexander Leschev, Senior Project Manager, Alfa-Bank;
Aleksandr Vurasko, lieutenant colonel of police, Deputy Director of Cyber Department, Bureau for Special Technical Measures of the Russian MIA;
Guzelia Imaeva, Director General, NAFI (National Agency for Financial Studies) Analytical Center;
and many others.
This year, the Forum (#cashforum) will pay special attention to one of the most pressing issues facing the banking community: the mid-term prospects of cash circulation. Whether the volume of cash transactions will drop or actually remain the same? Or, perhaps, it will demonstrate a certain increase recently shown in a number of countries?  And how do these tendencies get along with robotization, digitalization, crypto-currencies and further branch networks shrinking. 8 sessions will be held as part of the Conference:
These are the major sessions of the Forum:
Session 1. Cash circulation. Present state. Tendencies. Forecasts
Session 2. Bank branches under transformation
Session 3. Innovative technological solutions and concepts.
Session 4. Cash collection and count. Pressing tasks and new approaches.
Session 5. Modern ATM and terminal networks: higher efficiency as a key issue.
Session 6. Security threats in banking and retail.
Along with the PLUS-Forum conference, the most representative annual exhibition of specialized equipment and technologies from leading Russian and international companies will be open.
Global Partner: Gamma-Center in consortium with Laurel, ARCA
General Sponsors: Kalignite, JCM Global
Chief Sponsors: Ingenico, Fiserv, DEEP2000, Verifone, CFT, Ingosstrakh
Technical Sponsor: CTC Capital, IMS
Partners: SFOUR, LG, Unicum, StrongPoint Cash Security, VisionLabs, ZAO Giesecke & Devrient – LOMO, PBF Group, Cassida Eurasia, Crane Payment Innovations, Delta Systems, CityNet, Innovative Technology, Sensis, Rielta, Nautilus Hyosung, Third Sense, GLORY Global solutions, GRGBanking, LAN-АТМservice, NBK Trade, LANTER, Abloy, Consaltica, OKI, Europeum, Julong, Hendz holding, Quantum, Maykor, BTE, STEGO, LVO, Сash-Machines, Damask,  DSSL, LG, Ladon N, VIRTA Logistic, QIWI, Diebold Nixdorf, SAGA Technologies, NCR, Toshiba, RecFaces, Smit.
We invite 
speakers
 and 
vendors
 to participate in the event!  To inform us about your decision, please write to Deputy Chairman of the Steering Committee Konstantin Grizov at: konstantin@plusworld.ru or call +7 925 005 40 05.
You can get registered as a delegate 
here
. Hurry up, limited number of seats available!
Official hashtag of the forum: #cashforum.
Tweet