16:37, 16 August 2021
572 views
PLUS-Forum: "Fintech Borderless. Eurasia Digital". We meet at the financial market's pinnacle event in Almaty on 23 September 2021!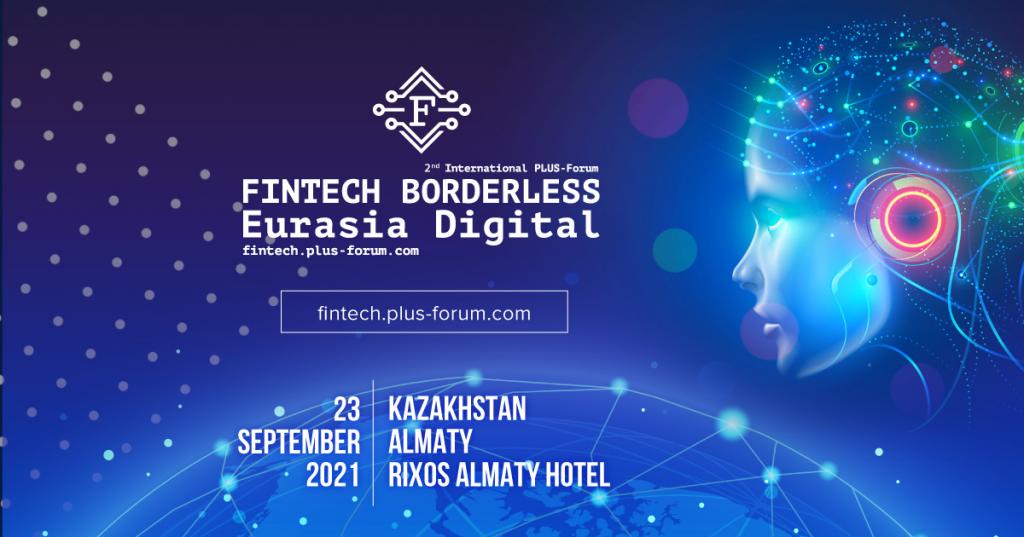 We are delighted to announce that new experts have joined us!
• Anton Mousin, First Deputy Chairman, Halyk Bank
• Alina Anikina, Board Chairman, Alfa-Bank, Kazakhstan
• Aidos Zhumagulov, Advisor to the Board of Directors, Bank Freedom Finance Kazakhstan
• Bolat Mynbayev, Head of Strategic and Operational Consulting, KPMG Central Asia
• Olzhas Satiev, President of Cyber Attacks Analysis and Investigation Centre
• Daulet Akezhanov, Board, Chairman, Freedom Finance Insurance
• Gleb Kostarev, Director of Binance in Eastern Europe
New sponsors and partners:
·      Vision Labs, Freedom Finance Insurance, NETinfo – Gold Sponsors
·      КМ Альянс, Dataphone, RightLine – Bronze Sponsors
·      SME Banking Club, Frank RG,  Club of IT&Digital directors – Associate and media partners
The Forum programme includes discussion of the widest range of issues related to the further development of fintech and payment business. Opening borders, connecting West and East, uniting fintech, banks and retail, the PLUS-Forum "Fintech Borderless. Eurasia Digital" invariably arouses great interest among professionals in the banking sector, payments industry, financial market and online/offline retail.
The Forum participants will discuss topical issues such as overcoming the consequences of the coronavirus crisis, further shift in priorities in the payments industry, Central Bank Digital Currency (CBDC) projects, transformation of the banking business, new acquiring business models, economics of ecosystems, remote identification; best practices in retail banking, interaction of banking and retail and many more.
The Forum platform is set to become an ideal place to:
- search new customers and develop relationships with existing ones
- support and promote your company's brand
- establish new business contacts with the banking industry stakeholders, vendors, experts and market regulators.
Alongside the conference, an exhibition of equipment, technologies and business solutions from leading companies will be organized.
Sponsors and partners of the PLUS-Forum:
Mastercard – Cocktail Sponsor
IBS PROJECT, BS/2 – Platinum Sponsors
Vision Labs, Freedom Finance Insurance, NETinfo, TietoEVRY, Oz Forensics, WHITEBIRD, Robokassa, THALES, Nadeks, Aliot, Edna – Gold Sponsors
FBS, Fido-biznes, ATM Alliance. Buhta, Intervale Kazakhstan – Silver Sponsors
KM Alliance, Dataphone, RightLine, Ostcard, Wordline, CRT Group, Possoft, Contact Design – Bronze Sponsors
Dr Web – Partner
KPMG, TechHub, Financial and Business Association for Euro-Asian Cooperation (FBA EAC), Association of Corporate Treasurers, National Payment Association, SME Banking Club, Union of Banks of Armenia, Union of Banks of Kyrgyzstan - Associate Partners
The ranks of media partners are growing to include:
Frank RG, Club of IT & Digital Directors, Technopark of St. Petersburg, National Banking Journal (NBJ), beincrypto
You can become a Delegate, Speaker or Sponsor, having learnt about all the benefits and options for participation here.
Register now, limited number of seats available!
Informational support: PLUSworld.ru and Retail-Loyalty.org.
Keep on top of our news at PLUSworld.ru, the official website of the event, and follow us in our groups in the social networks!
See you at the Forum!
#FintechEurasia #PLUSForum
Tweet