18:44, 25 May 2018
2676 views
May PLUS-Forum "Cards, Payments and Mobile 2018": the conference programme announced!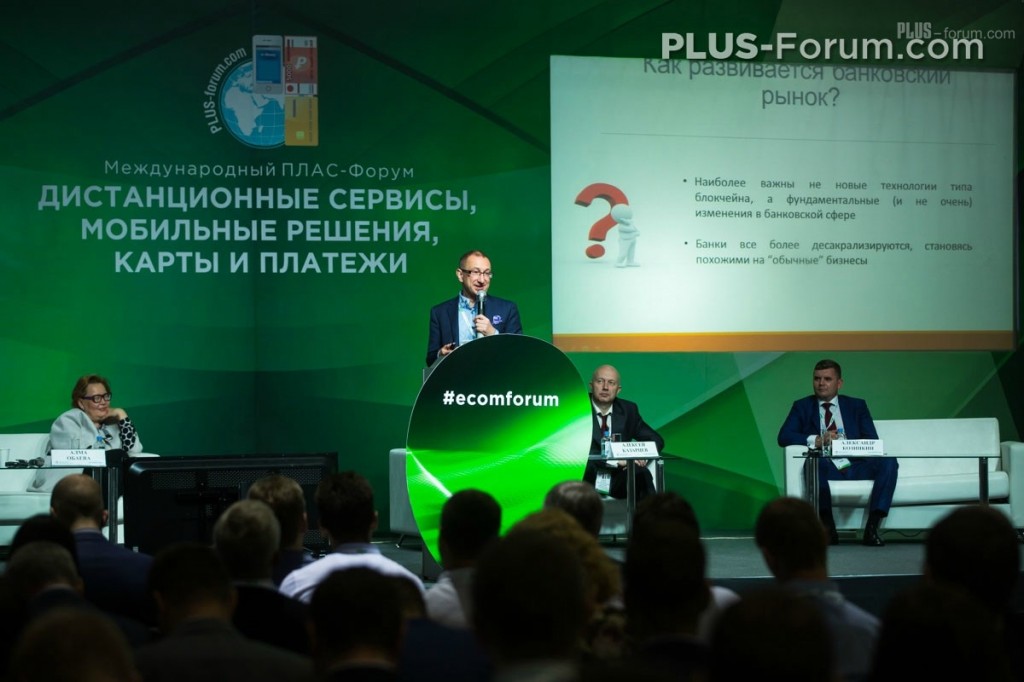 The Steering Committee of the International PLUS-Forum "Cards, Payments and Mobile 2018" has released the programme of the event to be held in Moscow's Sokolniki Exhibition and Convention Centre on May 30-31.
The May PLUS-Forum will analyze the current state and development issues of retail banking, payment industry and a wide range of remote retail services, including public services and prospects of their integration with commercial services.
The PLUS-Forum Steering Committee included in the conference programme the following sessions that are of particular interest to the market participants today:
Session 1. New trends in the payment industry and retail banking development.  
Change of strategies. Government regulation, consolidation and verticalization of the market in the digital society. 
Session Moderator: Alexander Grizov.
Session 2. Acquiring through the contours of the future. Business models and solutions, initiatives and practice 
Session Moderator: Vladimir Kanin, CEO, Pay-Me.
Session 3. Technology and challenges of the new reality. From the solution competition to the service competition, and more. 
Session Moderator: Maria Mikhailova, Executive Director, National Payment Association.
Session 4. Banking infrastructure 2.0. Remote customer identification and not just that alone. How does the financial services ecosystem change?
Session Moderator: Elman Mekhtiyev, Executive Vice President, Association of Russian Banks.
Session 5. Cyber resistance in the digital era.  How to stand against cybercrime at a national scale?  
Session Moderator: Andrey Kurilo, Chief Advisor, PhD in Technical Sciences, Associate Professor, RNT (Russian High Technologies).
Session 6. Digital transformation. On the way to the services of tomorrow. 
Session moderator: Alexey Gusev,  Scientific  Adviser, Institute of Financial Planning
You can find the more detailed programme of the May PLUS-Forum 
here!
Global Sponsor: Ingenico
General sponsors: Nexgo, Futubank, ROSAN
Chief sponsors: Verifone, Gemalto, Thales, DNA Distribution, Solanteq, Matica, Rostelecom, DEEP 2000, Evotor
Partners: QIWI, Compass Plus, TSYS, SafeTech, LANTER, OSTCARD, CASHOFF, CTC advanced, Cryptotech, SZZT, Shenzhen Kaisere Technology, Newcapec Electronics Co., DATAPHONE, SIM2M, SCANTECH, Best Quality Design, Z-Card, VisionLabs, JinGuan Tech (Shenzhen) Co. Ltd, PSIT, Contact Design, Feitian, Telepower, CASHOFF, Tactilion, Dongguan Ketian smart card technology Co., Yarus / Orangedata, Regula, Indemit, Smit, Orencard, Secvel, ISBC, RTLabs, Wiseasy, Russian Standard, eKassir, NovaCard, ATM ALLIANCE, Third Sense.
You can get registered as a 
PLUS-Forum
 delegate at the official event 
website PLUS-Forum.com
. Don't be left out in the cold – limited number of seats available!
The official hashtag of the Forum: #ecomforum 
Tweet