16:13, 1 November 2023
472 views
Innovations and business strategy. The 4th International PLUS-Forum "Fintech Borderless. Eurasia Digital" in Almaty. Post-event summing-up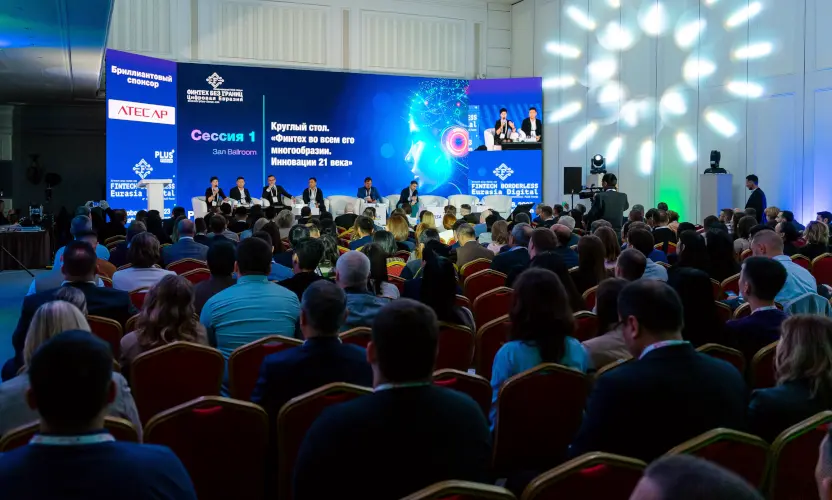 This year, for the third time, the Forum in Almaty brought together representatives of the banking sector, payment systems, telecom and transport operators, solution providers, market regulators and government agencies, leading industry experts fr om Russia and Central Asia, who discussed the current state and development trends of fintech, banking and retail. More than 90 international and regional experts made their reports and presentations at the conference.
Of special priority were the prospects for further digitalization of the financial sector and payments industry in the member states of the CIS, the EAEU and other countries.
Day One.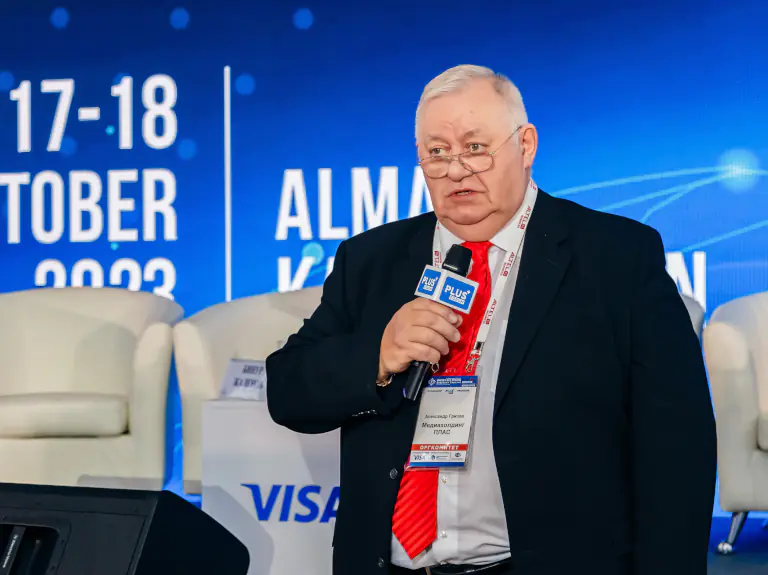 The Forum was opened by Steering Committee Chairman and PLUS Media Holding CEO Alexander Grizov, who stressed: "As we intended, our international endeavor in Kazakhstan has become an annual event fr om the very beginning and gained a regional scale in Central Asia!"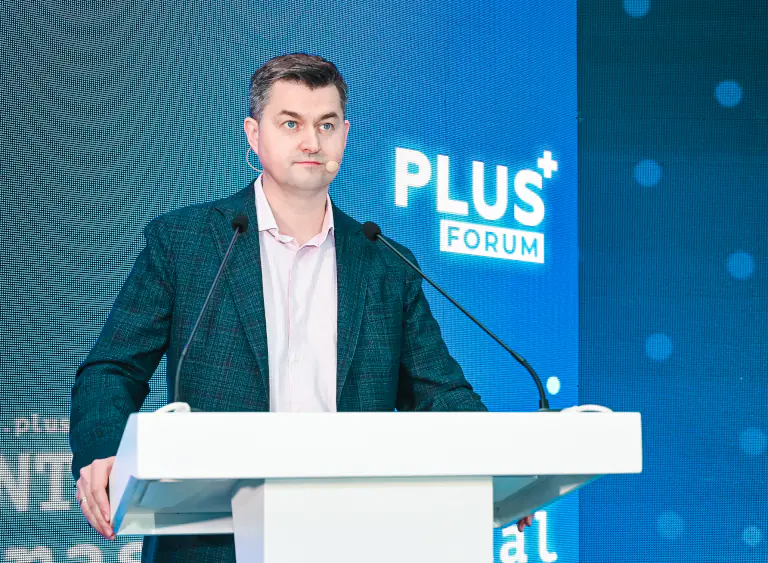 Also, PLUS-Forum Managing Partner Konstantin Grizov addressed the audience with a speech of welcome. He noted that "more than 60 vendors fr om 36 countries, including Russia, China, the USA, Türkiye, Kazakhstan, Lithuania, Belarus and others, demonstrate their latest products, technologies and services at the event. Moreover, they are ready to provide comprehensive information about successful cases and share their plans for the near future with the Forum delegates."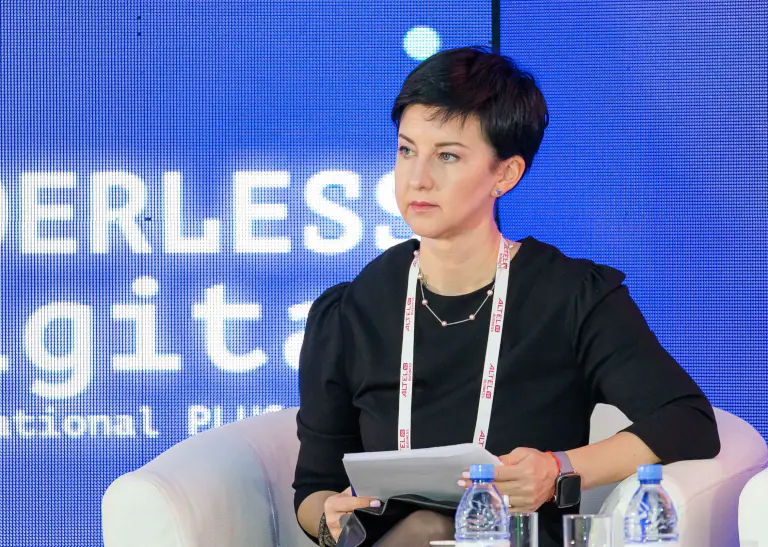 Cristina Doros, VP and Regional Manager of Visa in Central Asia and Azerbaijan, also addressed the delegates to highlight the main trends in the financial sector, such as technology development, innovation, support for SMB, and the improvement of financial literacy. She also noted that the government of Kazakhstan sets clear objectives for the cashless economy development. And the main strategic goal of Visa is to extend full cooperation in achieving these objectives, i.e. to offer the user the most secure, fast and convenient innovative solutions.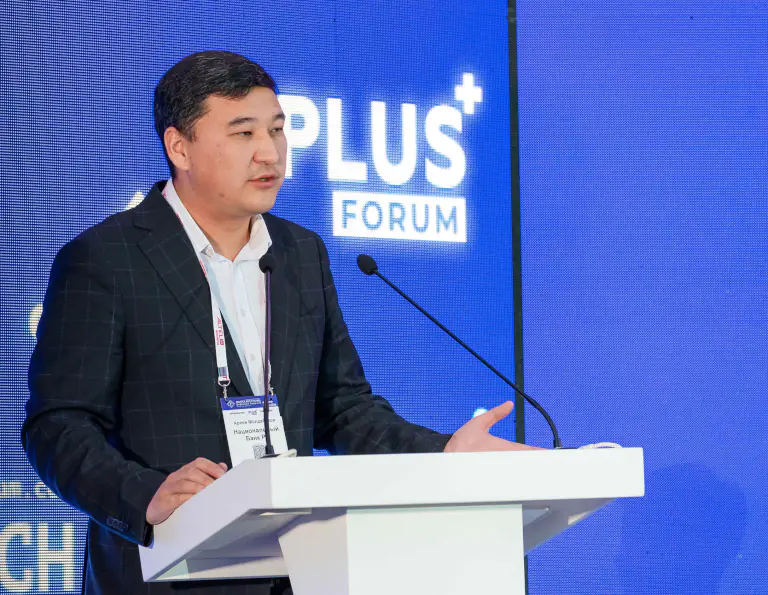 Continuing this dialogue, Head of Payment Systems Policy at the National Bank of the Republic of Kazakhstan Arlen Moldabekov informed about the development of the banking sector of the republic, presenting an array of very illustrative statistics. For example, the volume of non-cash payments in the republic has grown 16 times over the past five years, with the share of non-cash payments in retail reaching 83% already (compare: this figure was below 40% in 2018). Online payments have demonstrated more than 40% growth over five years.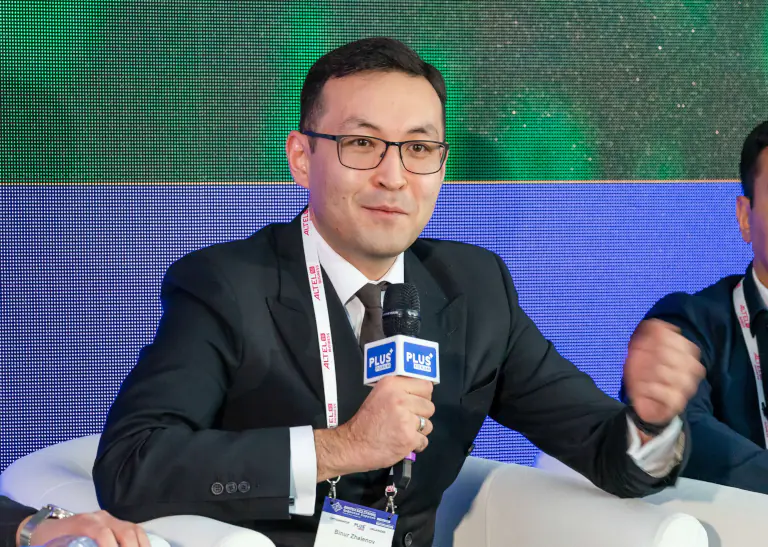 Board Chairman of the National Payment Corporation of Kazakhstan Binur Zhalenov dwelled on the development of financial technologies in Kazakhstan. He noted that "payments are the arteries of the economy, and the speed of money circulation is a very important, fundamental component" of the financial sector.
Overall economic growth depends on the cost of payments and the convenience of services.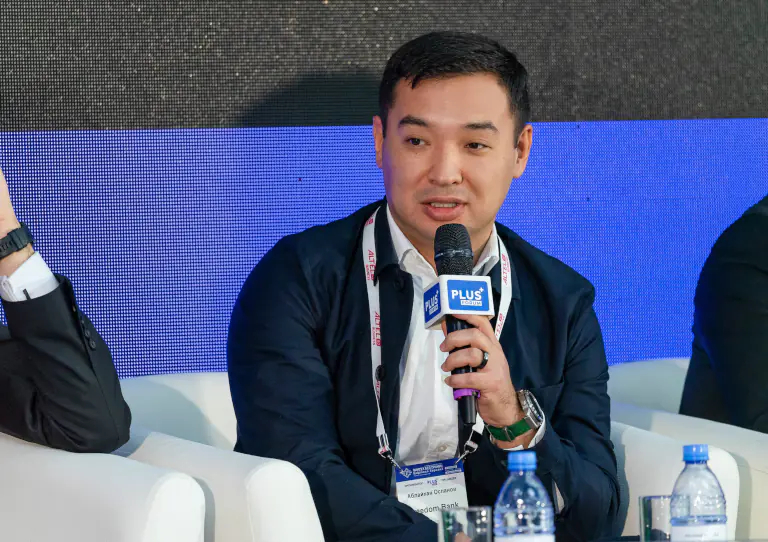 Ablaykhan Ospanov, Managing Director of Bank Freedom Finance Kazakhstan, paid special attention to the development of commercial banks in Kazakhstan.
Deputy Board Chairman of Halyk Bank Nariman Mukushev spoke about the digitalization of the banking system, focusing on the key trends seen in the global financial industry in recent years.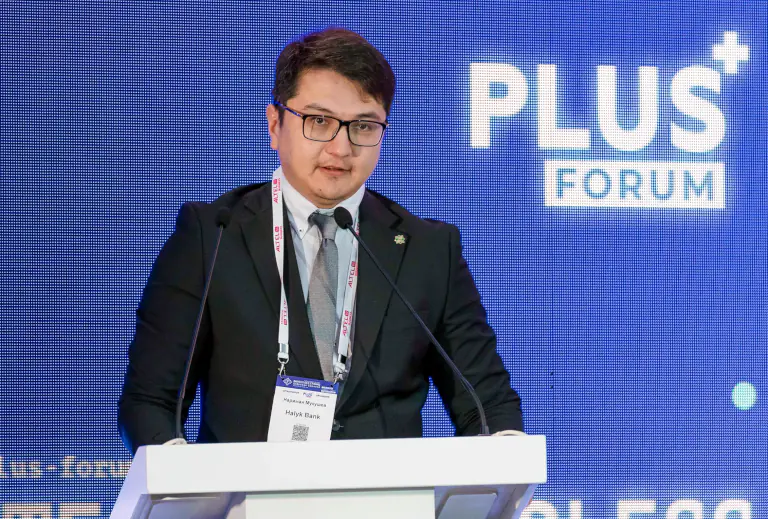 MOST Holding Co-founder and Managing Partner Pavel Koktyshev focused on the present day and future of fintech. He also shared the findings of a study on the venture capital market in Kazakhstan.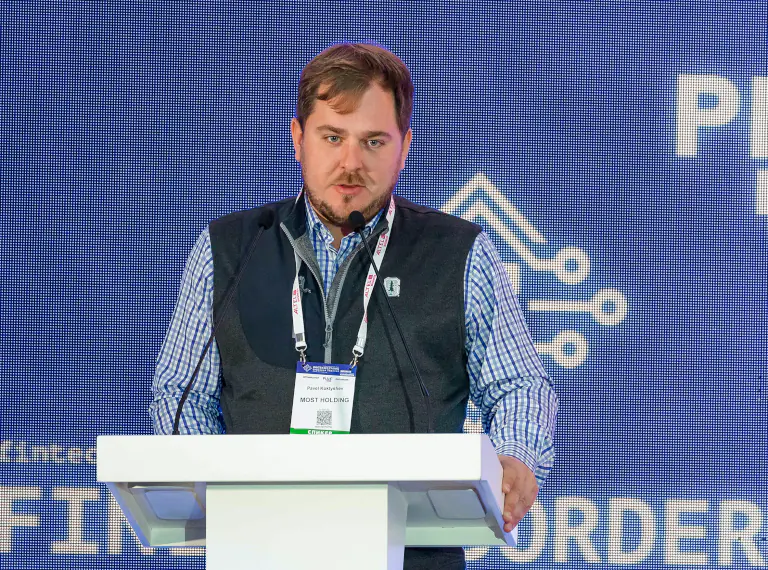 Director at Edgar, Dunn & Company Sami Zafar spoke about the future of cross-border payments.
Global trends in the transformation of BNPL business were covered in the report of Dmitry Peshnev-Podolsky, CEO of DPP Partners, ex- Board Chairman at Home Credit Bank.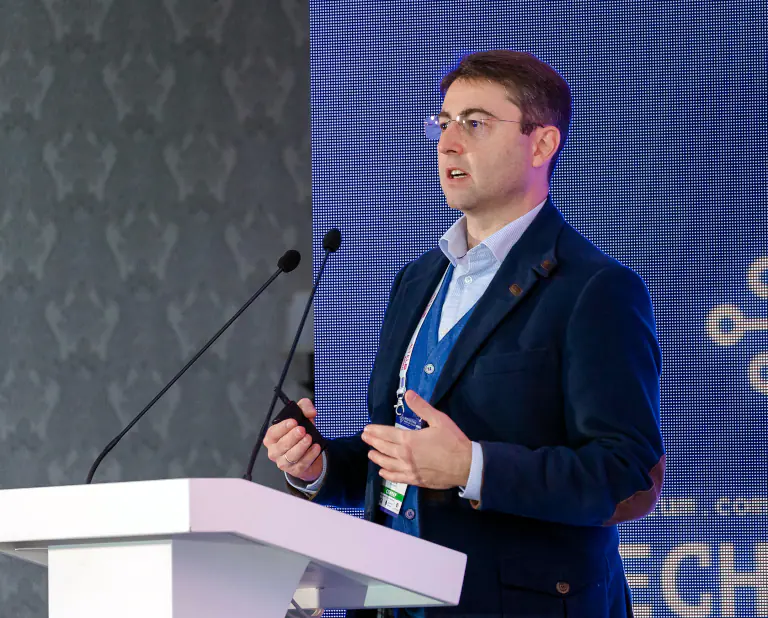 Managing Director of Kazpost Assem Nurgalieva dwelled on topical issues in customer relationships and moderated the session "Transformation of communications. Artificial intelligence in building business and customer relationships. Fr om remote identification and mobile banking to ATM networks."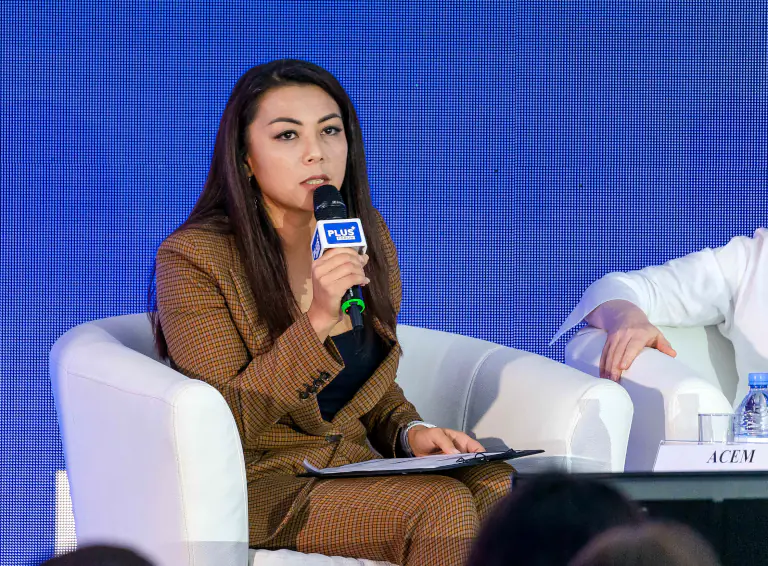 FINIX CEO Elena Novoselova spoke about the evolution of customer service in the banking industry in recent years, which brought dramatic changes in the industry.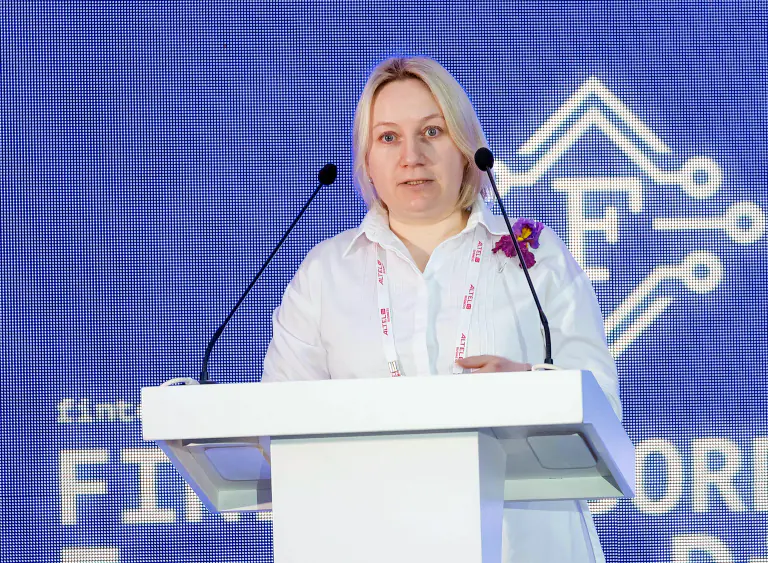 Managing Director of the National Payment Corporation of Kazakhstan Zhanar Samaeva reported on the positive practices developed in Open Banking & Open API in Kazakhstan.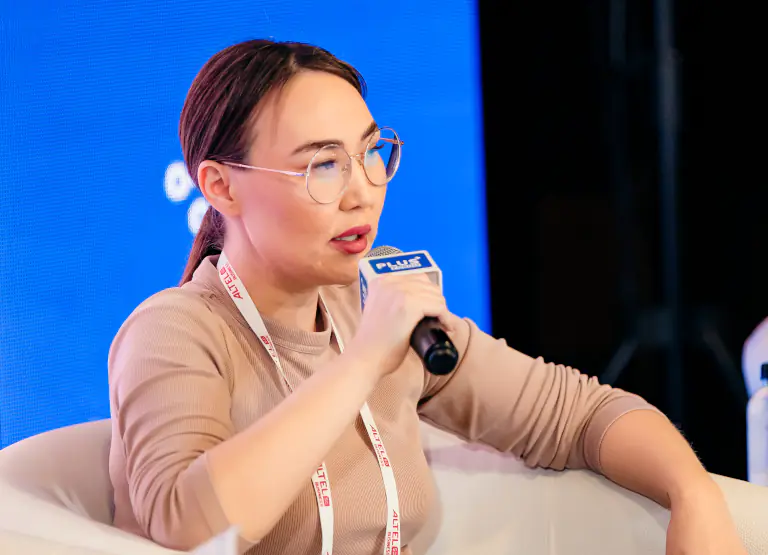 Nurlan Bakhyt, Head of Key Account Management at ALTEL Business, revealed methods of combating telephone scammers in Kazakhstan, wh ere social engineering is a serious problem, as is the case with Russia.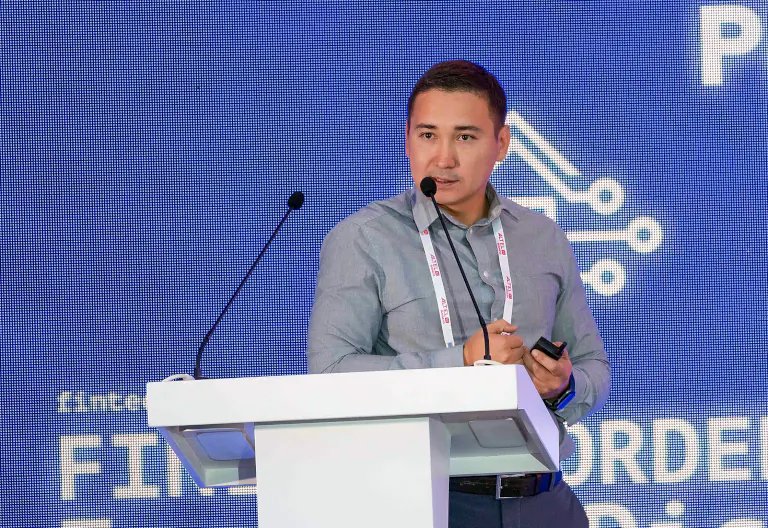 Andrey Vinakov, Senior Product Manager at Tletoevry Banking, spoke about banking strategies as part of the Open Banking concept implementation. He is confident that open banking will become a trend for the next 50 years.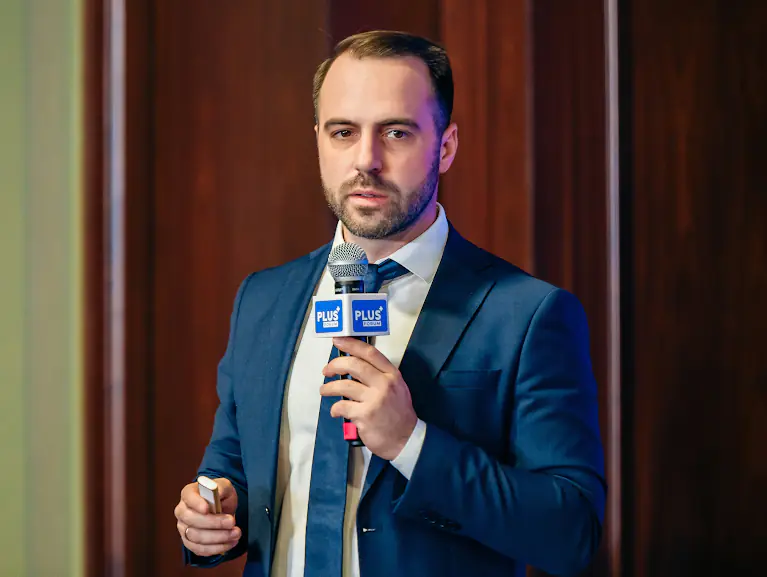 Brian Kuvik, Senior Vice-President of ACCION International (USA), told PLUS-Forum participants how Open Banking helps improve the convenience of services.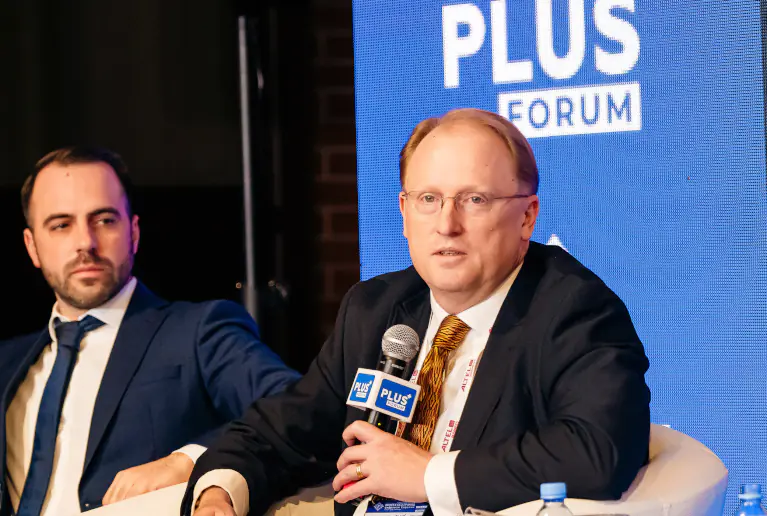 Day Two
At the sessions of the second day, Forum participants continued discussion of pressing topics and issues. In particular, Ashot Petrosyan, Head of Financial System Development Center, Central Bank of the Republic of Armenia, spoke about the digitalization of the financial industry in Armenia by the example of the regulator's experience.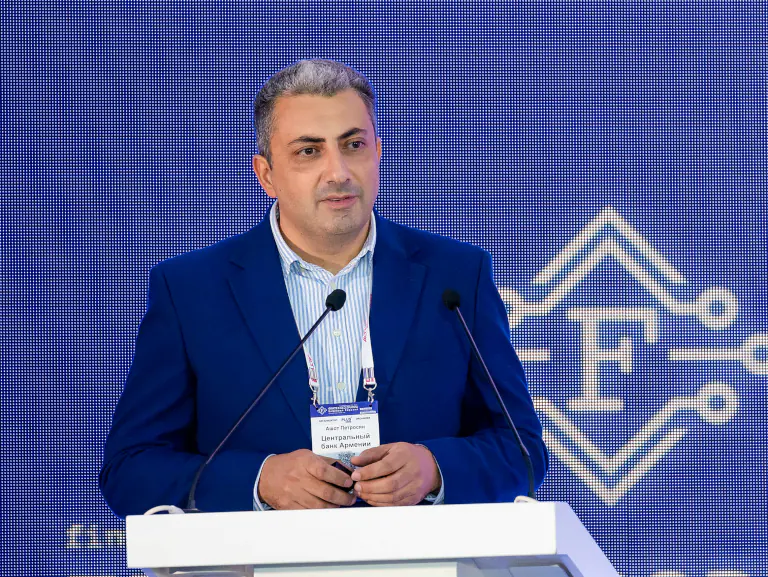 Two reports were focused on the innovations in digital mortgages: Kirill Gurbanov, Managing Partner of Samolet Fintech, and Svetlana Isaeva, Director for Digital Credit Products Development at FinTech Association, spoke on that topic on the first and second days of the Forum, respectively.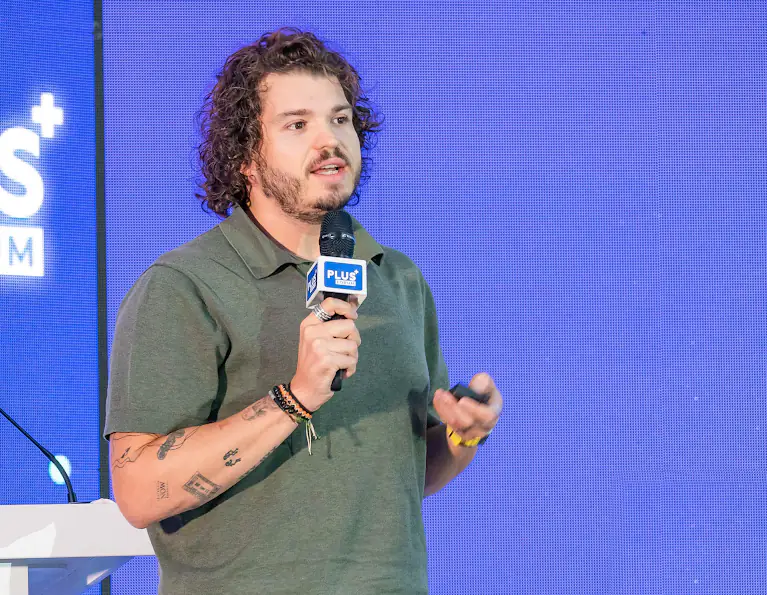 Otbasy Bank Deputy Board Chairman Nurlan Akshanov reviewed in detail the introduction of banking services in rural areas of Kazakhstan. 
Next, the audience listened to a detailed report by Maria Emelyanova, Sales Director at Freedom Mobile, wh ere she touched upon a wide range of topical issues.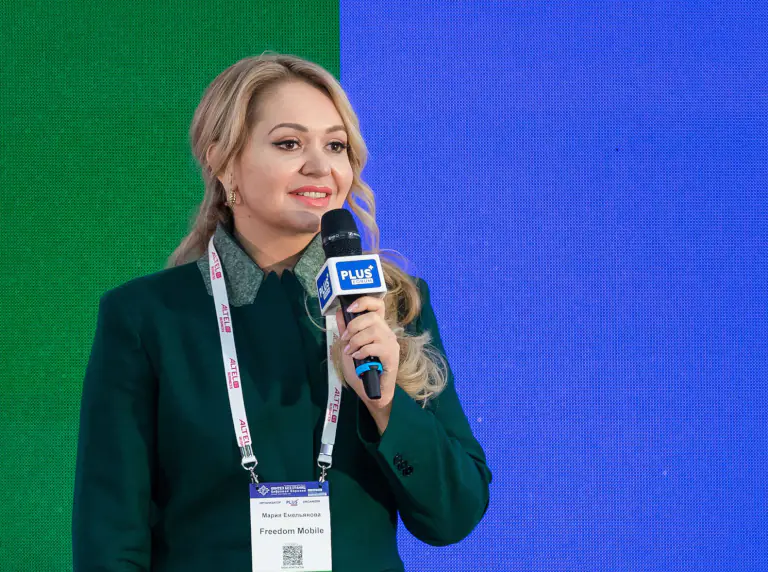 The role of offline services in retail banking was analyzed by Sergey Ulyanich, Head of Banking Network Development at Home Credit Bank.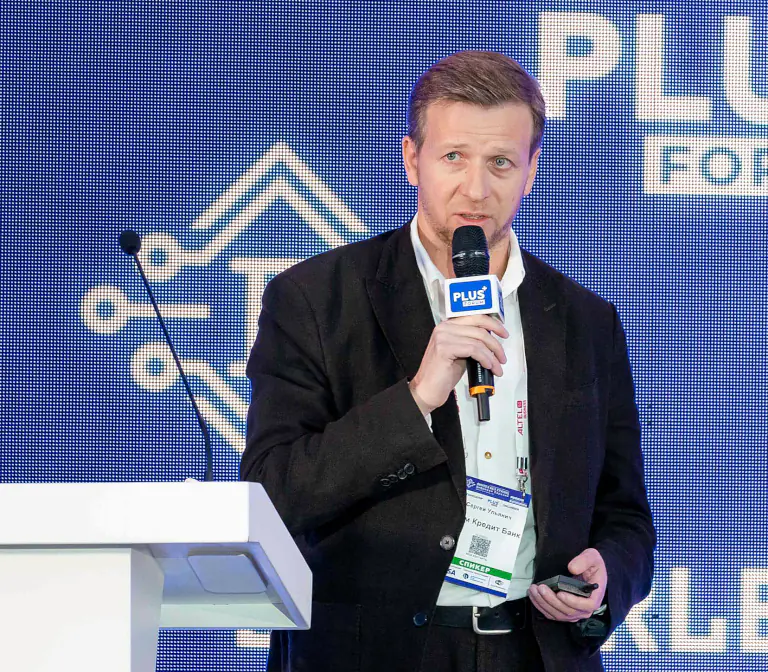 Abdusalom Azimov, Product Manager at Eskhata Bank, Republic of Tajikistan, reviewed the transformation practices – from classic service to the provision of full package of digital solutions for legal entities.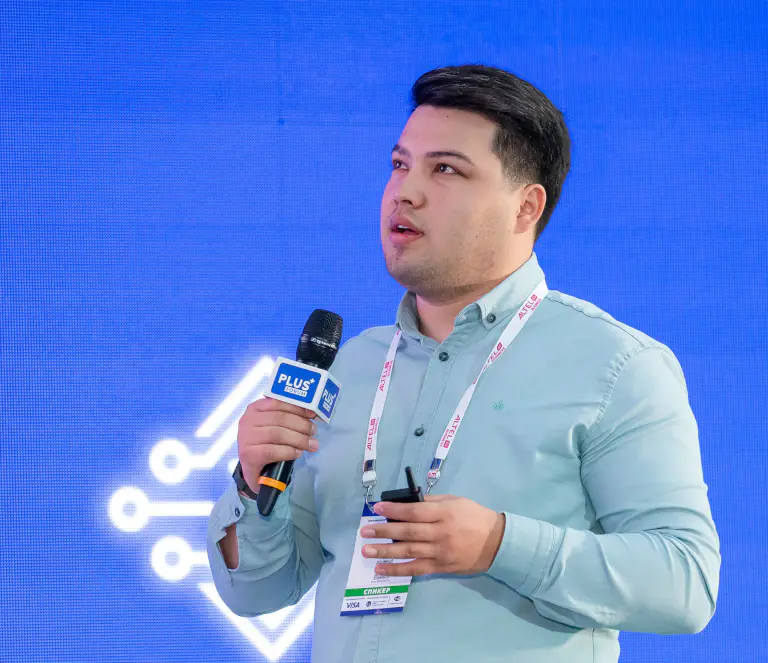 Petr Yaremenko, Development Director at Liptsoft, informed his colleagues about the effectiveness of marketing campaigns and managing the company's own sales channels.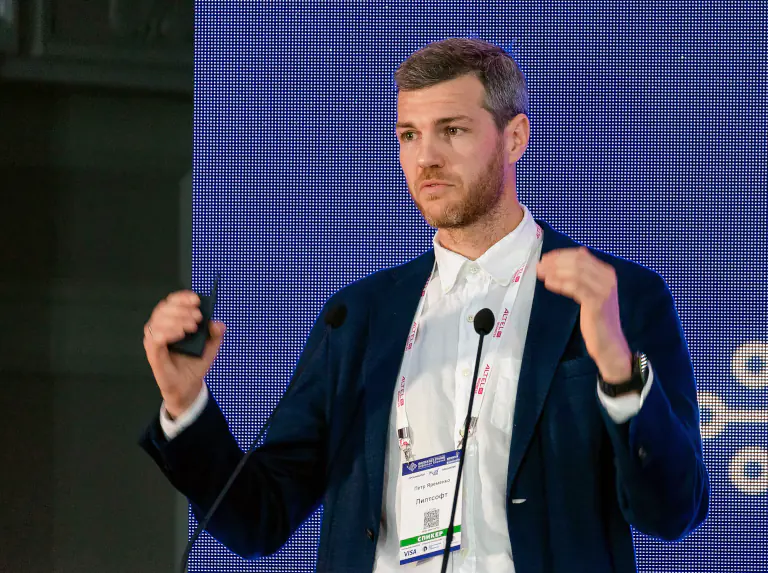 In his report "Digital clone of the physical branches of banks and insurance companies," PrimeBridge Business Development Director Alexander Filinsky noted: "We have two platforms: the first one is intended for cases wh ere our partner works with the end client, the second one is a B2B form, when our partner works with its partner company."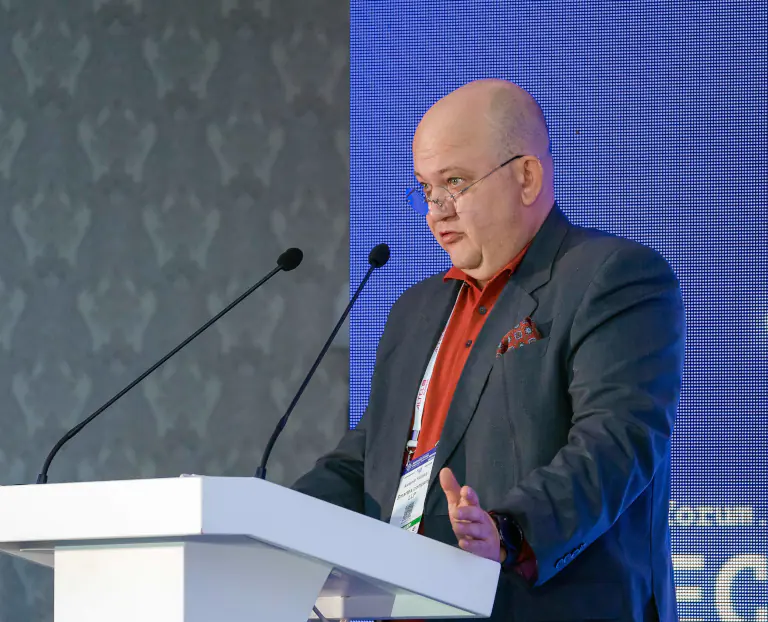 Presentations delivered by recognized international experts such as Adam Kula, Secretary General of the Union of Turkic Chambers of Commerce and Industry and a native of Southeast Asia (Singapore), and George Benil, Vice President for Sales at M4Bank, deeply resonated with the audience.   
Kirill Palchun, CPO, Payment and Remittances, MTS, delivered a report on the evolution of QR codes.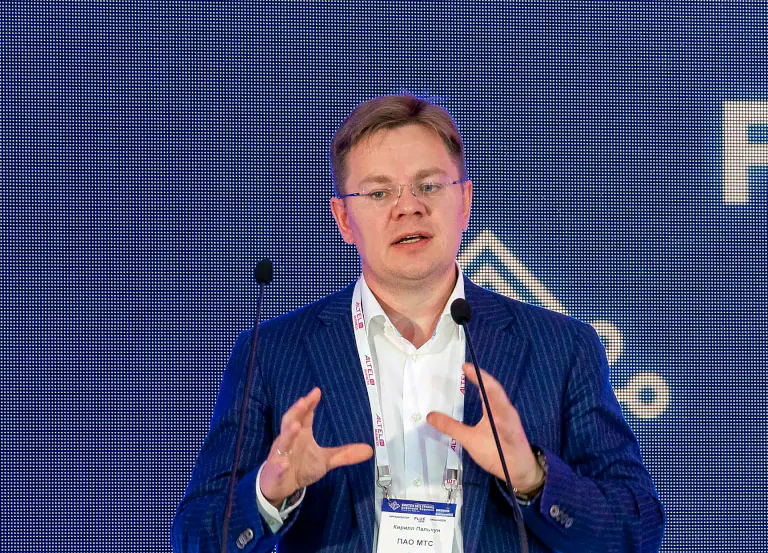 Bukhta CEO Aset Nurpeisov paid special attention to digital approaches to cost processing.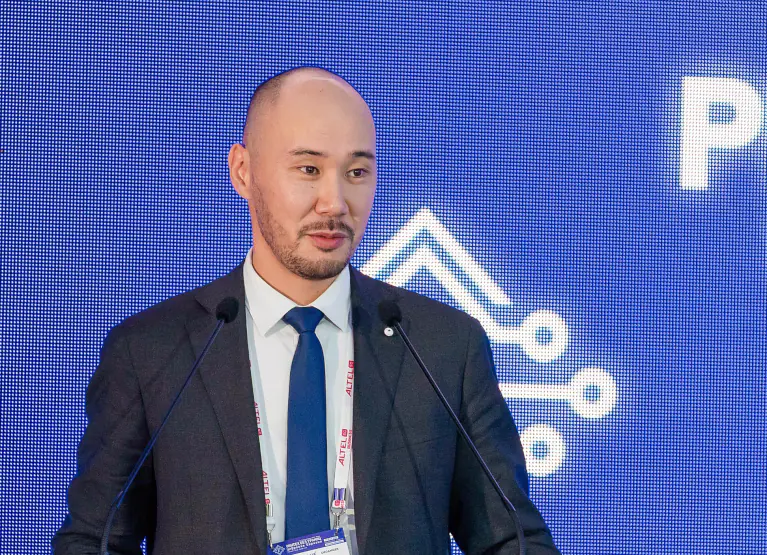 The report by Click2Money CEO Sergey Banshchikov was focused on effective customer acquisition strategies and innovative approaches to marketing, including CPA networks.
The report by Andrey Konstantinov, Director for Research at FINIX, covered the issue of "Competition after Open Banking".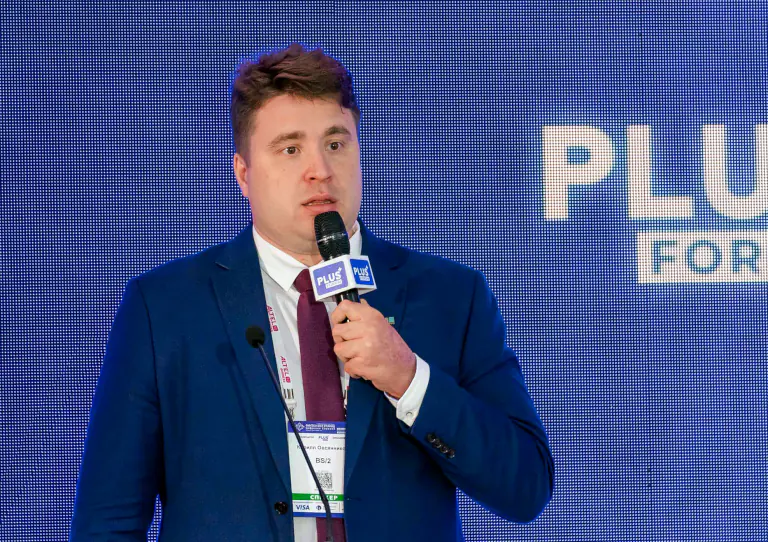 Kirill Ovsyannikov, Deputy General Director for Strategy and Planning at BS/2, and Denis Kokhaev, Head of Business TechSupport at Kapitalbank, informed the audience about the details of a joint project aimed to modernize the ATM fleet at Kapitalbank. In the summer of 2023, the companies signed a Memorandum of Strategic Partnership. With the fleet of modern self-service devices expanded as a result of this cooperation, over 1.6 million bank clients will get convenient access to financial services.
Arina Lepikhova, Head of Digital Technology and Product Development for SME at Home Credit Bank, delivered a report under the title "Digital bank for SMEs in 6 months: Open API case - online accounting".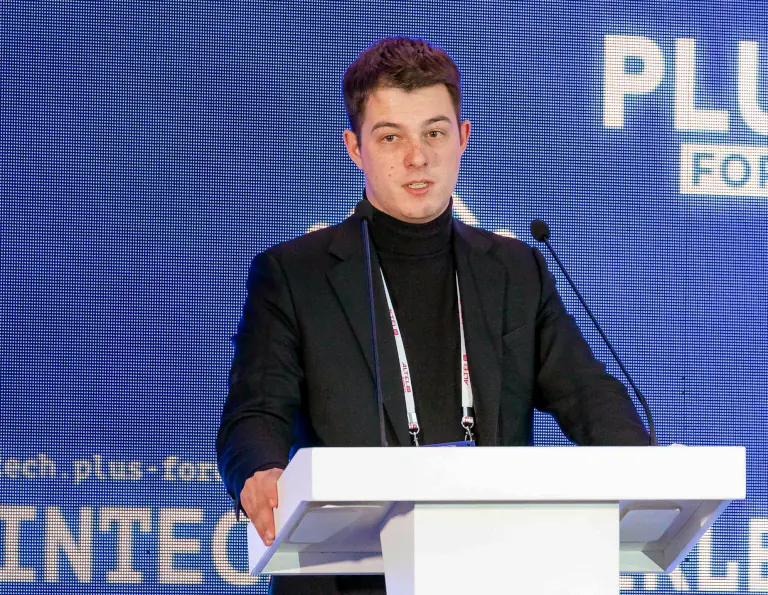 An extremely interesting issue was raised by Kirill Greshnikov from AEQUITAS, a law firm. He dwelled on the legal aspects of working with artificial intelligence in the financial sector.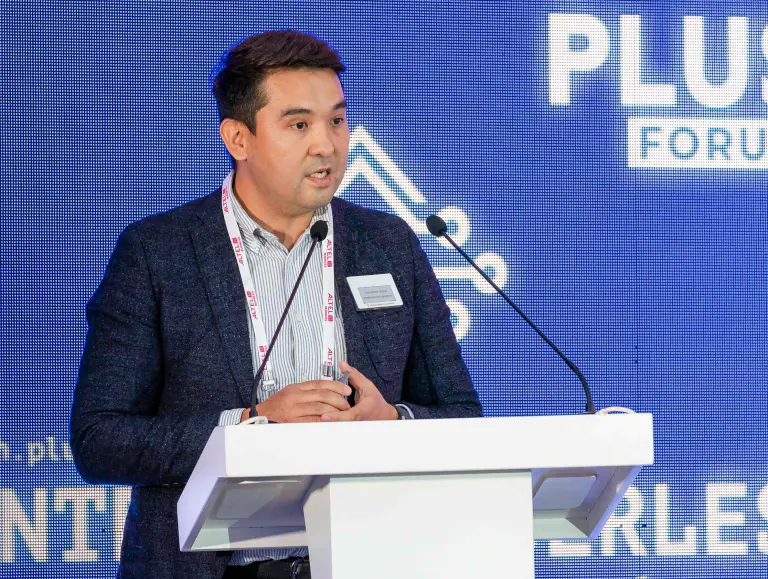 Dybys Tech COO Erlan Tulkubaev, spoke about new technologies that help banks work more efficiently and profitably.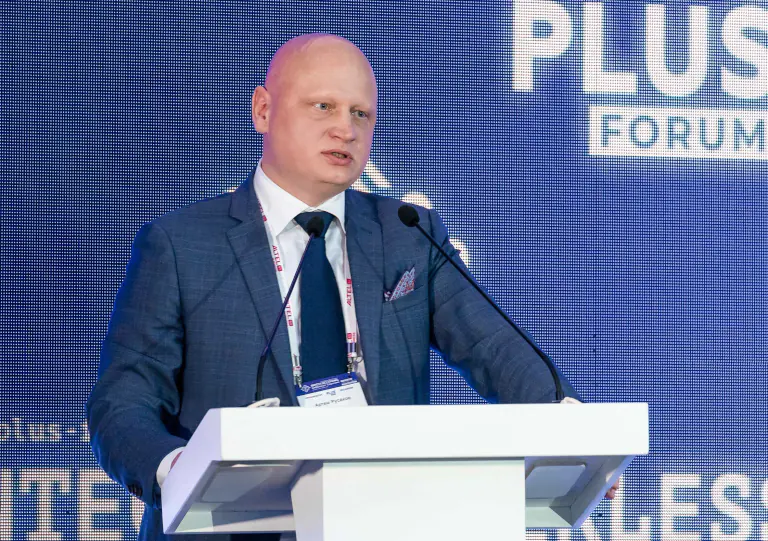 The report by VisionLabs Banking Sector Development Manager Artem Rusakov was focused on an extremely pressing problem: "Deepfake as a new threat to digital banking." Curiously, VisionLabs presented a biometric facial recognition technology at the PLUS-Forum in Almaty, which was used for admittance of participants and delegates to the event.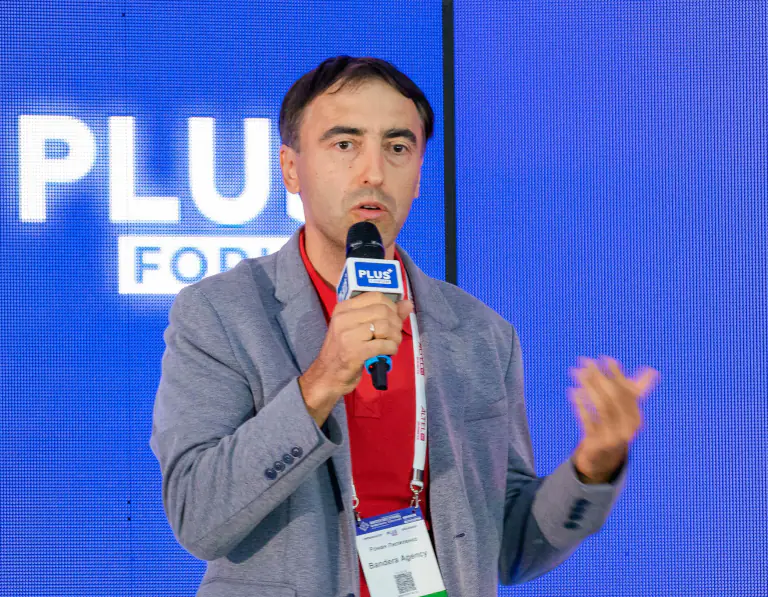 Roman Pilipenko, Development Director at Bandera Agency ltd, informed how to quickly become a leader in lending.
The report of Binance Kazakhstan COO Zhuldyz Saulebekova, titled "Blockchain and cryptocurrencies: the evolution of online payments," was focused on current trends in the financial sector.
Director for International Business Development at PayPorter Nurbol Omarkhanov spoke about payment systems in Türkiye.
"DeFi: opportunities and risks" was the topic of the report by independent expert Kirill Ostrovsky.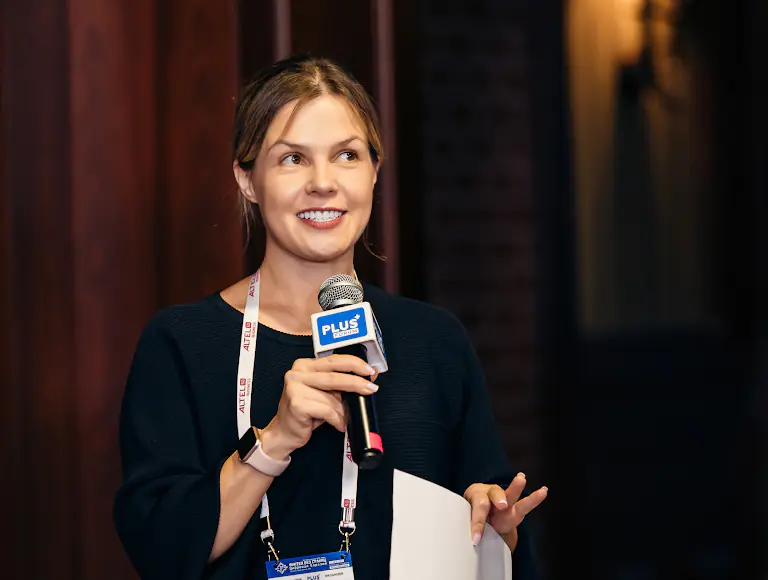 Natalya Romenskaya, Advisor to Eurasian Bank Board Chairman, dwelled on how cryptocurrency becomes part of everyday life in Kazakhstan.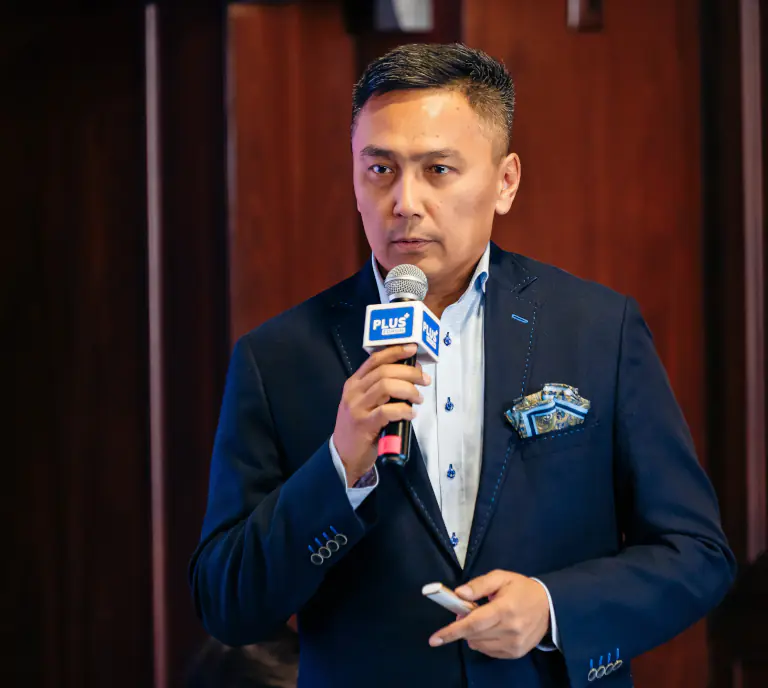 In his turn, IBA member and CEO of Center for Digital Law Ermek Rustembek-uly explained how traditional financial institutions can make friends with the cryptocurrency economy.
Exhibition of achievements
As part of the Forum, a representative exhibition was organized, wh ere over 60 vendors from more than 36 countries, including China, the USA, Türkiye, Kazakhstan, Belarus, Cyprus Russia Lithuania Russia and others, presented their latest products, technologies and services. Moreover, they provided comprehensive information about successful cases and shared their plans for the near future.  
The BS/2 company presented, for the first time in Kazakhstan, the new generation of ATMeye.iQᴺᴳ and Payments.iQᴺᴳ, as well as DS Center.iQ, a decisioning support system.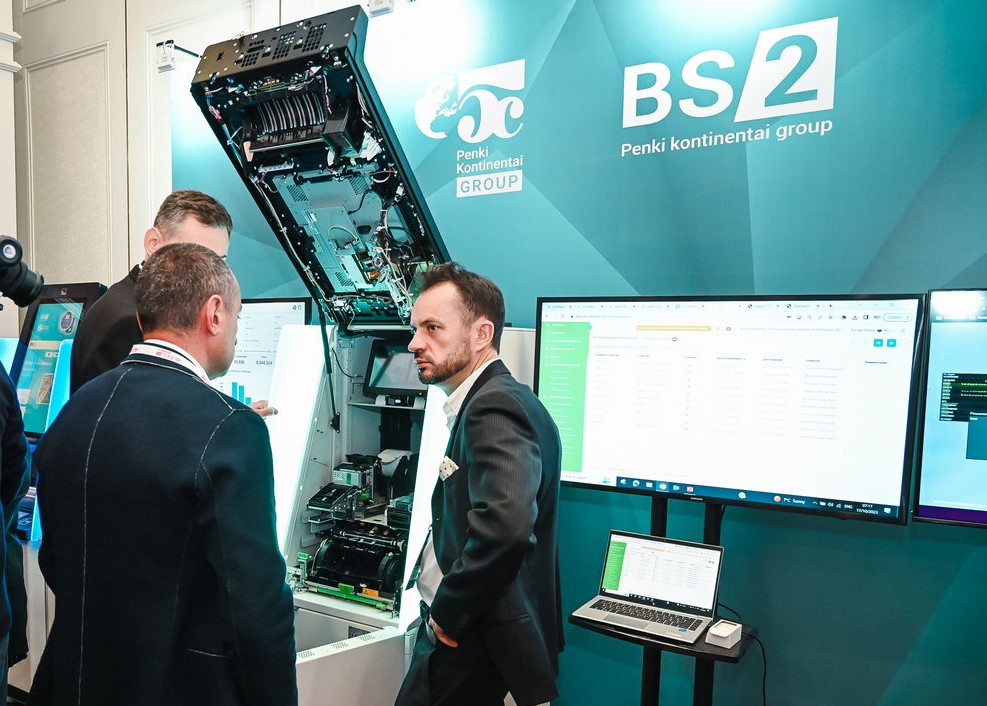 Yandex Cloud specialists informed about machine learning-based speech technology for creating voice assistants, as well as about financial organizations' call centers automation, the practices and effects of introducing speech technologies into the bank's front office.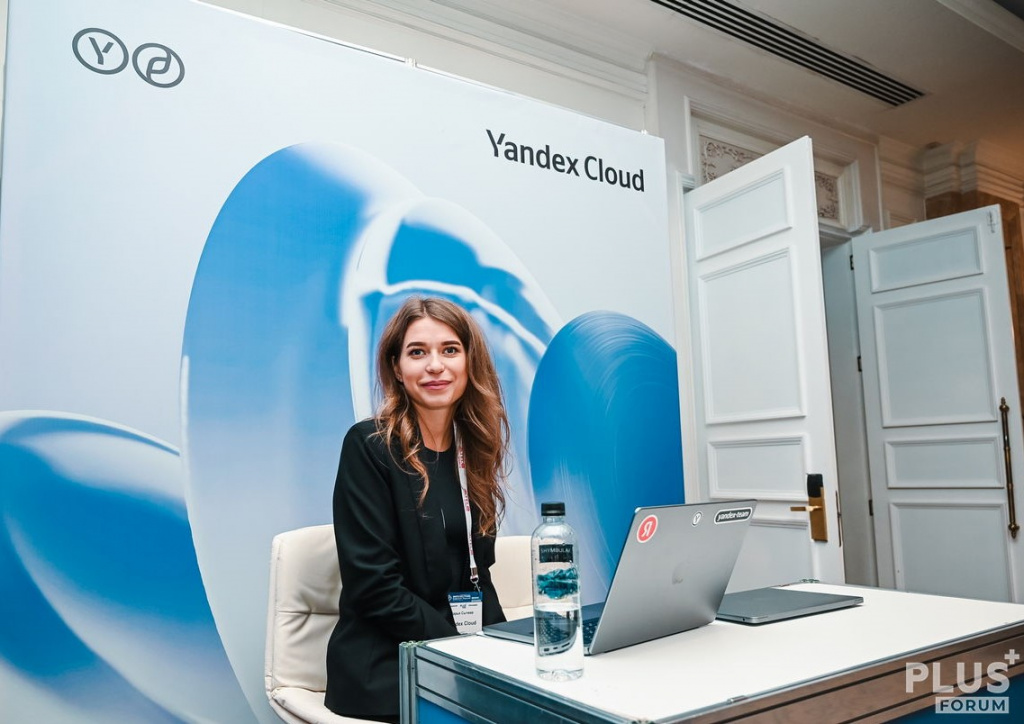 ALTEL Business became an official sponsor of the PLUS-Forum "Fintech Borderless. Eurasia Digital". ALTEL Business is a leading provider of Big Data solutions, offering comprehensive data analytics technologies to leading companies in various industries.
PayPorter took part in the event as the Chief Sponsor in order to promote new business partnerships and services and creating additional opportunities within the new financial landscape.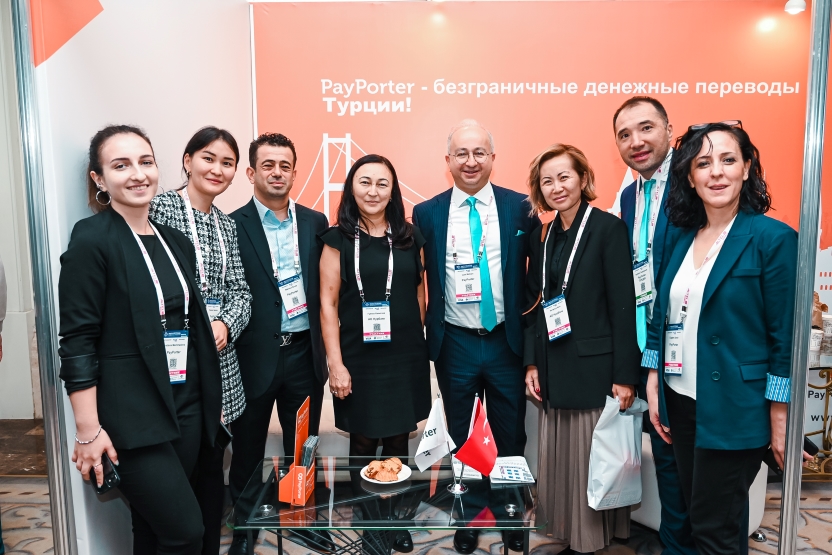 Artemissio is a new emerging brand and partner of Rosan Asia, a company specializing in payment accessories. The ideas for creating products were taken from the beauty of the natural world, the impeccable shine of precious metals and stones. Rosan Asia is the largest supplier of bank cards and payment accessories in Central Asia.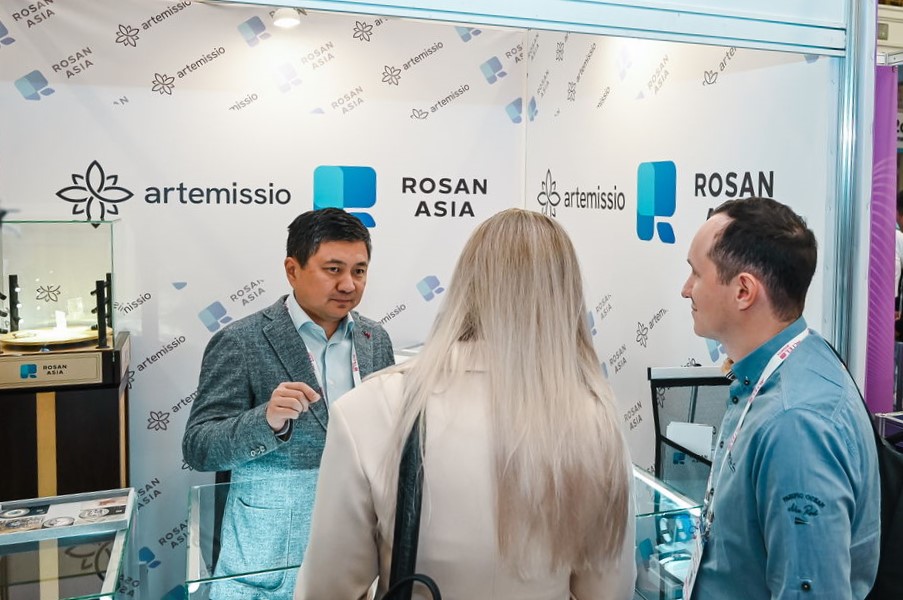 Newland NPT and its partner Softline presented their new lines of POS terminal equipment. 
Igor Stukanov, Chief Representative of Newland NPT in Russia and the CIS, noted that deliveries of new SP180 HCE and P300 HCE PIN pads for retail will begin in late 2023.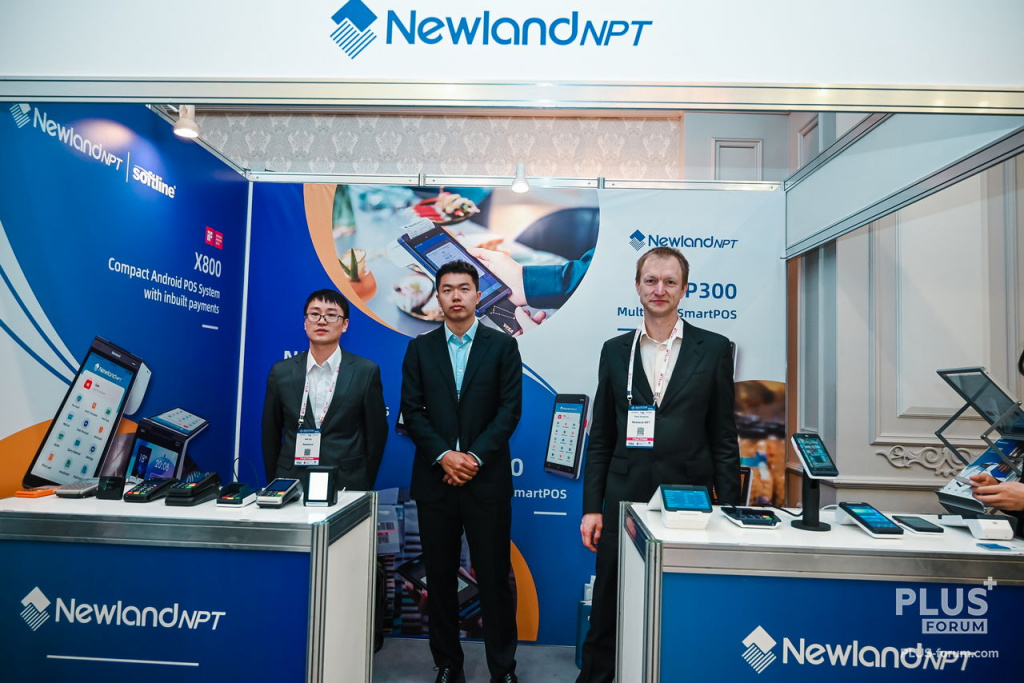 Click2Money, an innovative international CPA platform for promoting banking and microfinance products, offers tools for precise targeting and increasing partner sales.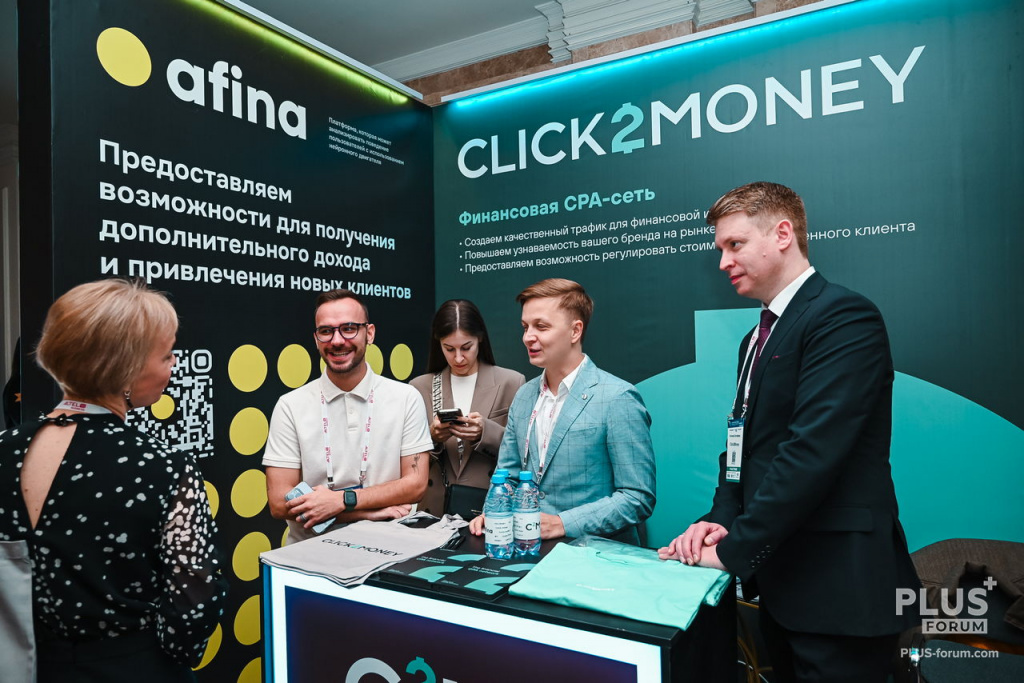 Bisys Fintech, an IT company founded in 2016, is a resident of the Astana hub. The company presented a unified payment management platform for banks, payment organizations, e-com and bigtech.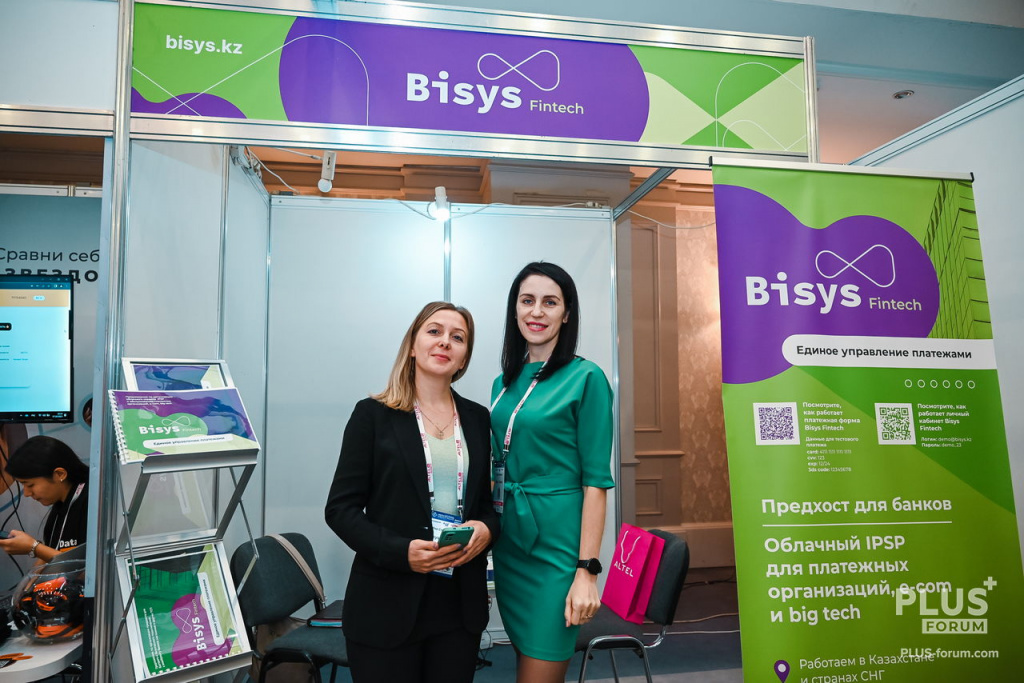 Judging by the feedback from visitors and participants, the exhibition at the current PLUS-Forum in Kazakhstan was especially fulfilling. The event was attended by delegations of banks from Kazakhstan and representatives of financial organizations and processing centers of Uzbekistan, Azerbaijan, Georgia, Kyrgyzstan, etc.
Tatyana Fyodorova from the Bukhta company shared her impressions of the work of the PLUS-Forum "Fintech Borderless. Eurasia Digital," shared: "The Forum fully met our company's expectations. Excellent organization, interesting reports from speakers and a great opportunity to present yourself on the market. The Bukhta company, which represents online accounting, informs the audience about solutions that will help entrepreneurs and accountants get rid of routine processes."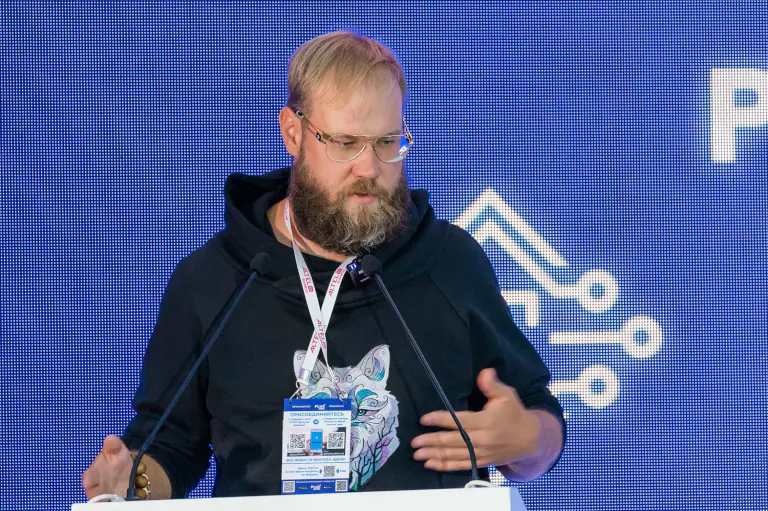 Denis Maimistov, Head of Business Development at QIWI Kazakhstan, informed about new blockchain-based technologies - Web 3.0. The company's stands were also presented at the exhibition.
PLUS Award presented for the first time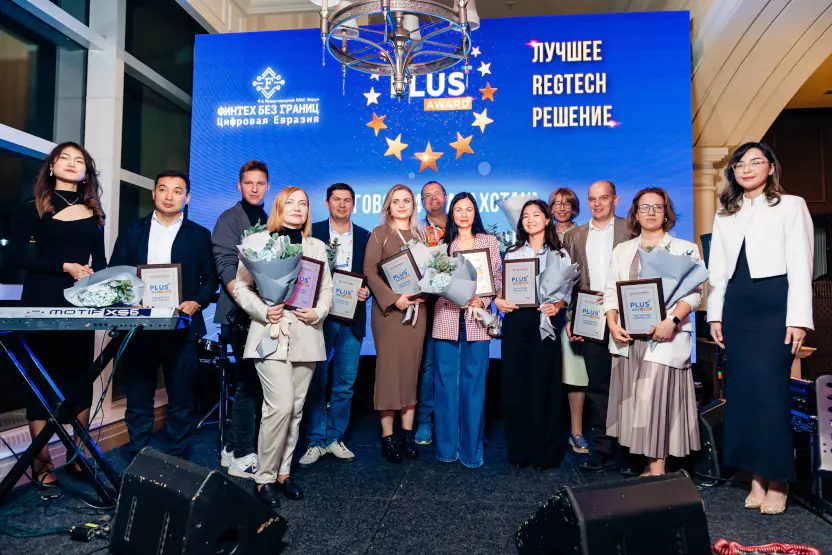 The final chord of the 4th International PLUS-Forum "Fintech Borderless. Eurasia Digital" in Almaty was the awarding of the first winners of the "PLUS Award"!
As Chairman of the jury Alexander Grizov noted in his welcome address, "the mission of the PLUS Award is to identify and demonstrate to the market the best cases that are examples of high achievements in fintech, non-cash and cash circulation, payment business, creation and implementation of payment services and products."
This year, the Award Organizing Committee received over 50 applications in 11 categories from banks and companies from Kazakhstan, Kyrgyzstan, Russia, Tajikistan and Uzbekistan.
By decision of the jury, the following entities became the PLUS Award winners in 2023:
In the category "Promising FinTech Startup. Innovative company":
• Cybernet (Kazakhstan)
• BUKHTA (Kazakhstan)
Best Open Banking Solution
• Bank Sinara - Delobank project (Russia)
• RBK Bank (Kazakhstan)
• FinTech Association (Russia)
Best AI-based Solution
• Freedom Bank (Kazakhstan)
Best solution in the crypto industry
• BitOK (Russia)
Best ESG Initiative in Finance
• Eurasian Bank (Kazakhstan)
• "OnlineKazFinance" (Solva brand), Kazakhstan
Best RegTech solution
• Dogovor24 (Kazakhstan)
• Verme in collaboration with Magnum, Kazakhstan
Banking products availability
• Tenge Bank (Uzbekistan)
Best banking service for small businesses
• Bank Eskhata (Tajikistan)
• Home Credit Bank (Kazakhstan) in partnership with red_mad_robot Central Asia (Russia)
Best loyalty programme
• Intebix (Kazakhstan)
• Halyk Bank (Kazakhstan)
Best mobile bank
• MBANK (Kyrgyzstan)
Best e-commerce solution
• Compass Plus (Russia)
Winners of special awards from the PLUS Media Holding:
In the category "Best publications of the PLUSworld portal":
• Aidos Zhumagulov, Advisor to Freedom Bank Board Chairman
• Talantbek Imanov, Minister of Digital Development of the Kyrgyz Republic
• Natalya Romenskaya, Board Chairman Advisor on Crypto Initiatives, Eurasian Bank
In the category "Most Active Expert":
• Oleg Balandin, Managing Director of Halyk Bank Kyrgyzstan
• Vitaly Kopysov, Director of Innovation, Bank Sinara Group
The PLUS Award is a well-deserved apprizal of high achievements in fintech, non-cash and cash circulation, payment business, creation and implementation of payment services and products.
The list of Partners, Sponsors and Media Partners of the 4th International PLUS-Forum "Fintech Borderless. Eurasia Digital" can be found here.
Photos can be found here
Video can be found here
The PLUS-Forum platform has been on the market for 15 years already. During this period, it has rightly won a reputation of a key industry event both in Russia and in the CIS countries. In recent years, the PLUS team has been focused on the markets not only of Russia, but also of neighboring countries, and first and foremost, those of Central Asia. To this end, a series of new events targeting these markets have been organized over the past three years. And they have already managed to declare themselves as the largest and most popular platforms in the region!
We are waiting for you at the International PLUS-Forum "Retail Central Asia" on November 21–22, 2023 in the capital of Uzbekistan, Tashkent!
We also draw your attention to our PLUS-Forums, which will take place in 2024:
• Digital Kyrgyzstan, February 28, 2024, Bishkek, Kyrgyzstan
• Fintech, Banks and Retail, June 12–13, 2024, Tashkent, Uzbekistan
• Payments and Cash Circulation, September 10–11, 2024, Moscow, Russia
• Fintech Borderless. Eurasia Digital, October 30–31, 2024, Almaty, Kazakhstan
• Retail Central Asia, November 20–21, 2024, Tashkent, Uzbekistan
Tweet