13:36, 22 January 2020
2103 views
High Spots of October PLUS-Forum 2019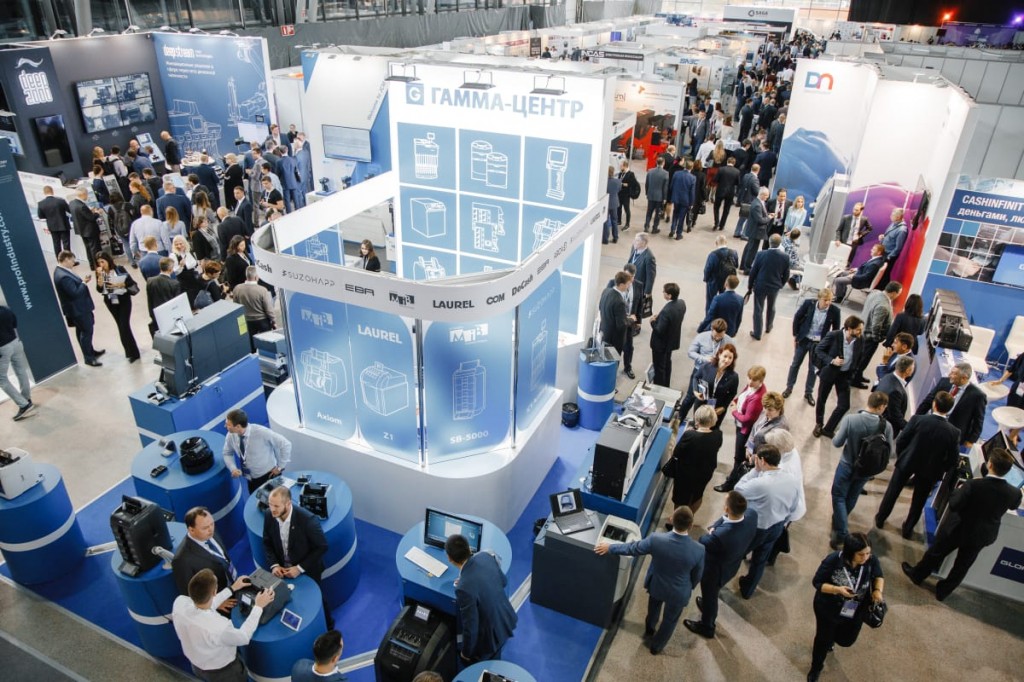 The record-breaking audience of the 11th International PLUS-Forum "Cash Circulation + Self-service. Banking and Retail 2019" proved once again the Forum's status as the most anticipated event in the market. This does not happen by chance, since cash and cashless will continue their interaction in the market for quite some time.   



Among the most significant points of PLUS-Forum 2019:

 

• Cash and non-cash ceased to be competitors long ago – they are two sides of a very important area, said Alla Bakina, Head of National Payment System Department, Bank of Russia.

 

• Vladimir Demidenko, Deputy Director of Cash Circulation Department, Bank of Russia, spoke about the results of the BoR's Coin Site operation. The total amount of coins in it exceeded 100 thousand bags during the period from November 21, 2018 to October 1, 2019.

 • Banks may have to pay for the coins soon, warned Valery Chulkov, VTB Board Member, Chairman of Cash Circulation Committee at the Association of Banks of Russia. He also drew the attention of delegates to the fact that the total amount of cash in the country increased by more than 20%, that is, cash remains in demand, and banks need to deal with it.

 • To reduce the cash circulation costs through automation and innovative technologies is the common goal for all financial market players, believes Andrey Korolev, Vice President of Gazprombank.

 • Despite the non-cash payments growth, cash remains the essential means of payment in the Russian Federation and demand for it continues to grow – concluded her speech Irina Zhdanova, Executive Director of Sberbank Cash Circulation Department.

 • Fintech is becoming the key driver for the IT development in Russia, believes Nikita Lomov, Head of Analytics at the FinTech Association (AFT). Among the main vectors of fintech development, he named the creation of new and the development of existing business models by banks, a noticeable change in the competitive landscape in the banking sector, as well as the emergence of new professions and competencies.

 • Vsevolod Khomenko, Head of Financial Research Projects, NAFI Research Centre, informed about an increasing number of Internet users – 59%, who have doubts about the security of their personal data.

 • In the next few years, the banking physical service infrastructure will keep on changing, and the total floor space of ​​bank branches will shrink by almost a third by 2025 to be replaced with some alternative formats. This forecast was made by Maria Guseva, Senior Principal, Management Consulting Practice for Financial Services Sector, Accenture.

 • Despite the non-cash payments growth, the volume of cash proceeds remains quite big to amount to 17 trillion rubles by 2024, says Evgeny Zhilov, Head of Calculation Business at Transactional Business Directorate of Alfa Bank. In this regard, he pointed out the relevance of migration to self-cash collection for retailers.

 • The cash back service provided at checkouts in the stores can compete with self-collection by using automatic deposit machines (ADM), believes Vyacheslav Chvanov, Deputy Head of Self-Service Devices and Acquiring, Department of Business Operations Support, VTB.

 • Elena Petrova, Executive Director for Development at Russian Standard Bank, talked about the increase in the number of account top-ups via NFC-enabled ATMs. She urged market participants to take note of this and enhance their ATMs with contactless readers.

 • The market is migrating to modern counting and sorting machines (CSMs), said Aleksey Nichipor, Head of Cash Circulation Processes Automation and Mechanization at the Cash Circulation Department of the Bank of Russia. Not a single first-generation CSM was submitted to the Bank of Russia for verification in 2018, the speaker stressed.

Also, for the first time in the event history, a strictly-by-invitation session took place: "Security features of banknotes and working with them. Examples of security feature simulation by counterfeiters. Problems. Solutions."  

Alongside the conference, an exhibition of equipment, technologies and business solutions was held during both days of the event. This year, more than 70 Russian and international vendors took part in it. By tradition, many of them chose the PLUS-Forum to arrange a debut presentation of their innovative products and solutions.  

 • Gamma Center introduced DoCash ADM-40 and the restyled modification of the DoCash BS vibro-stacker that allows automated aligning and stacking banknotes.

 • Intel introduced solutions that help financial institutions move to a new technological level.

 • At Kalignite's booth, a solution was presented that would enable banks to seamlessly migrate to a later version of Windows without need for software updates.

 • PBF Group, a Russian manufacturer of banking solutions announced their comprehensive solutions for self-service devices security.

 • OSTKARD presented their next generation compact banknote sorter, which is the fastest compact device among its counterparts available on the market.

 • Rielta introduced equipment to ensure the security of banking facilities, leaving no chances for a criminal to intrude into an ATM.

 • Saga presented to the guests of their exposition a unique multi-functional terminal capable of accepting and dispensing any form factors of cash, both banknotes and coins, as well as dealing with any bank cards.

 • AA Major Auto, an official Volkswagen dealer in Moscow, introduced a car model empowered with capsule armoring technology for collection and transportation of valuables.

  

The Global Sponsor of PLUS-Forum 2019 was Gamma Center together with DoCash (Germany), Scan Coin (Sweden), Laurel (Japan), HYUNDAI MIB International (SBM, South Korea).

 

General Sponsors: JCM Global, Kalignite, Diebold Nixdorf

 

Chief Sponsors: Intel, DEEP 2000, MIDOT, VTB

Partners: StrongPoint, Abloy, Glory, ATM Alliance, GRG Banking, Z-Card, Best Quality Design, OKI, Europeum, Damack, Innovative Technology, SFOUR, Ritm, LAN ATM Service, Lanter, PBF Group, NCR, Profindustry, Saga Technologies , Rielta, Unicum, SNBC, VIRTA Logistics, Giesecke & Devrient  - LOMO, Bauflex, MultiSoft, Sim2M, Ligat, CFT, EASTCOMPEASE, Ekassir, ATM Market, A-BT, RDS Consulting, Sensis, Dataphone, MobileCat,  Saltoro, Uralsib, BTE, BC-Express, Crimoborudovanie, Kvint, Q-SYSTEMS, Yamaguchi, Third Sense, OSTKARD, THALES, LETA, MCT Company, Z-card, MobileCat, BI.ZONE, SoftClub, Guarccess, Major.

 

 The next edition of the PLUS-Forum "Cash Circulation + Self-service. Banking and Retail" will be held on June 3-4, 2020.

 

We invite speakers and vendors to participate in the event. Let us know your decision via email: konstantin@plusworld.ru / tel .: +7 925 005 40 05 (Konstantin Grizov, Deputy Chairman of the PLUS-Forum Steering Committee).

 

Register now – limited number of seats available!

Official Forum Hashtag #cashforum
We also invite you to take part in other events we organize in 2020:
April 22-23 – PLUS-Forum "Payments 2025"
October 7-8 – PLUS-Forum "Online & Offline Retail"
November 12-13 – PLUS-Forum CIS "Fintech Borderless. Eurasia Digital."
Tweet