16:27, 18 November 2019
1994 views
FinTech Borderless. Eurasia Digital – three days before the opening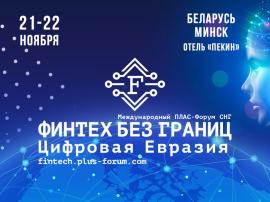 The preparatory work for the International PLUS-Forum CIS "FinTtech Borderless. Eurasia Digital" to be held on 21-22 November in Minsk is in its final stage.
 The Forum will focus on the analysis of the current state and development prospects of banking and payment industry, fintech and innovations in the key member states of the Eurasian Economic Union (EEU), the Commonwealth of Independent States (CIS), the Shanghai Cooperation Organization (SCO), and more.
Among the key topics of the Forum:
• Financial services in the digital era
• Using fintech to achieve new service
quality in banking and payments
• Acquiring. New business models in retail and e-Commerce
• Blockchain and cryptocurrencies in banking. Tendencies. Business cases
• Economics of ecosystems. Remote identification and free market
• Retail banking and payments. Fintech Battle: brick-and-mortar vs neobanks
The list of speakers includes:
• Slava Akulov, COO, ANNA, Great Britain (bank for Businessmen)
• Gideon van den Broek, Head of WIZZIT Digital Europe & Middle East
• Alexey Kazartsev, member of the Financial Services Group of the BRICS Business Council; Advisor of  the Financial and Banking Association of Euro-Asian Cooperation
Dmitry Shedko, Managing Director, Finstore.by
Darpan Shah, Founder and CEO, NEO Advisors (Building Bridges in Payments)
Fedor Bogorodsky, President of Alfeba Group, founder of the world's first state-backed cryptocurrency, El Petro
Victor Ikawa, Head of Reseach and Consumer Insights, M-Pesa (Safaricom)
• Olga Antonovich, Head of Electronic Payment Instruments Department, Payment System and Digital Technologies Directorate, National Bank of the Republic of Belarus
• Elena Anthony, Board Chairman, Non-Bank Credit and Financial Organization 'Single Settlement and Information Space' (ERIP)
• Alexander Egorov, Deputy Board Chairman, Belarusbank
• Elina Sidorenko, Doctor of Law, Professor, Director of Digital Economy and Financial Innovations Center, Head of State Duma Working Group on Cryptocurrency Risks
• Evelina Lavrova, Marketing & PR Director at Waves World, Founder of Decrypto PR, CV Labs Expert
• Kirill Domnich, Deputy Director General, Senior Manager, Ernst & Young Digital  
• Yuri Ivanov, Head of Financial Technologies and Payment Services, VKontakte
• Elliot Goihman, Founder, LikeBank
and many more.
The first day of the Forum, November 21, will feature a "Panel discussion the regulator" attended by the top management of the National Bank of Belarus and major credit organizations of the republic, including Belarusbank, Bank Dabrabyt, Belinvestbank, etc.
Concurrently, during the two days of the PLUS-Forum CIS, FinTech Connection will be held where fintech startups will have private meetings with the leading bankers and investors of the CIS market.
On November 21, FinTech Connection with Bankers, a private meeting of the founders of promising fintech companies from Europe with leading CIS bankers will be held. The fintech companies will present their products and business profiles, plans for entering the CIS markets, and prospects for partnership with banks.  
On November 22, FinTech Connection with Investors will take place, where promising fintech companies will meet with a number of investors specializing in the fintech industry. The companies will have an opportunity to attract investments, and the investors will be able to meet dynamic and promising startups and to invest in their innovative products.
Sponsors and partners: Worldline, TSYS, CFT, UZCARD, Unistream, Compass Plus, DEEP2000, Currensy.com, MobileCat, SmartCard Service, Qiwi, Chronopay, Energize Global Services, Colvir, RBK. Money, Solidarity Bank, Belarusbank, IvendPay, MGMedia.
Forum media partners: "Arguments and Facts" portal and weekly in Belarus, Association of Belarusian Banks, Association of Financiers of Kazakhstan, Association of Banks of the Republic of Kazakhstan, Union of Banks of Kyrgyzstan, National Payment Council, Kazakhstan Association of IT Companies, Association of Corporate Treasurers, Association of eMoney and Remittance Market Participants (AED), Frank RG, TRIBUNA, Finance Time, Banker.kz, PROFIT.KZ, 'eMoneyNews, RIA Banks and Finance, Bloomchain, ArmINFO, Belarusians and the Market, Akchabar, infobank.by, Economic newspaper, Prime Press, banki24.by, Select.by, FintechLab, SHE - Business Incubator, Delo, Fintech.am.
The International PLUS-Forum CIS will be held in the capital of Belarus at the address: 36 Krasnoarmeyskaya, Beijing Hotel, Minsk,
Forum hashtag: #EurasiaFINTECH
Tweet