16:36, 19 April 2021
206 views
The 2nd International PLUS-Forum CIS "Fintech Borderless. Eurasia Digital": the event dates are announced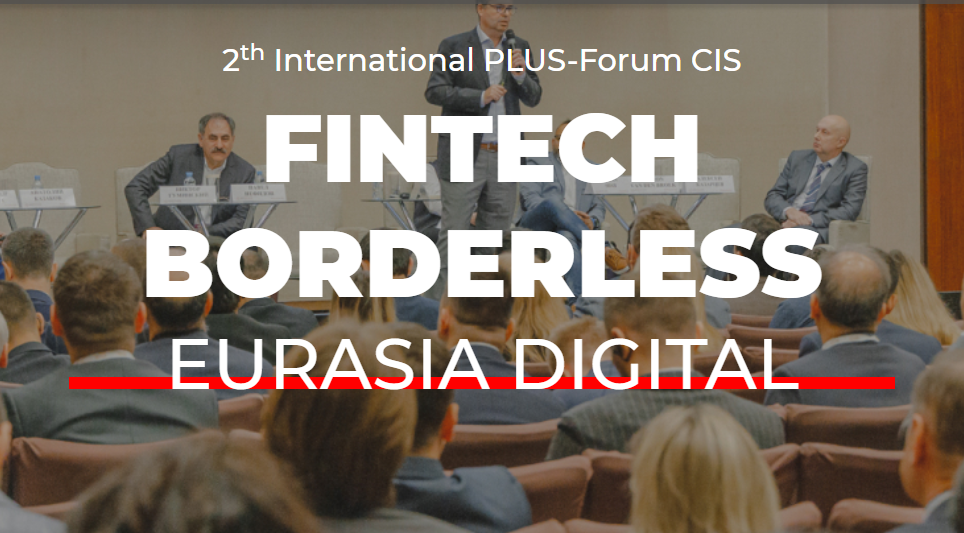 The Steering Committee of the 2nd International PLUS-Forum CIS "Fintech Borderless. Eurasia Digital" decided to hold the event in Almaty (Kazakhstan) on 29-30 September.
The Forum participants will discuss the issues related to the development prospects for the banking sector and payment industry on the Eurasian continent. The discussion framework includes the Eurasian Economic Union (EAEU), Commonwealth of Independent States (CIS) and Shanghai Cooperation Organization (SCO).
Among the Forum speakers:
Jakirul Islam, Senior Vice President, Bank Asia Limited

Alma Obaeva, Board Chairman, Non-Profit Partnership "National Payments Council"

Berik Mukhambetzhanov, Deputy Board Chairman, Eurasian Development Bank

Victor Dostov, Chairman, Association of eMoney and Remittance Market Participants (AED); Chief Research Officer at Saint Petersburg University

Bekzhan Mutanov, Deputy Chairman, AIFC Fintech Hub

Arman Khachatryan, Head of Financial Policy Department, Eurasian Economic Commission

Nikolay Petelin, independent expert, formerly responsible for SME division at Vostochny Bank

Olga Aleksyuk,

Head of Competence Center for Digital Business Innovative Technology, Promsvyazbank

Elina Sidorenko, Doctor of Law, General Director, ZABIZNES.RF, an entrepreneur applications handling platform, Professor at MGIMO University, Director of Center for Digital Economy

Mark Baranov, Managing Director for Merchant Acquiring Development, MKB

Yuri Ivanov, Director for Financial Technology and Payment Services, VKontakte
The business agenda of the Forum includes discussions of the following topics:
Investments in fintech in the key country markets

First steps of the digital ruble into the digital "family" of central bank currencies (CBDC)

Open API - an evolution or a chance for revolution?

Financial marketplaces: one year passed, what's next?

UBS and other biometrics projects: is that already an interbank remote identification?

P2P payments market. An atavism or still a financial ecosystem element

Faster payments system. Where are moving to? Who or what can turn FPS into a cross-border facility?

Big data. Security of computed data

Digital Profile + Fintech = Big Data + Artificial Intelligence + Machine Learning.

How did lockout "teach" the financial market and what "subjects" did Fintech learn?

"New marketing" or "Customer is always right"

War to some, boon to others. Pandemic as an "adrenaline storm" of onboarding digitalization in banking.

Lifestyle banking. Does it live in your "pocket"?

Cryptocurrency industry and blockchain. You-hoo?

Development of national payment systems.

Cyber ​​resilience of banking and payments industry
You can see how it was during the PLUS-Forum "Fintech Borderless. Eurasia Digital 2019" in the summary video here.
The success of the first edition of the PLUS-Forum sparked broad interest of the market participant in this platform.
To date, the following companies have joined as the event partners or sponsors:
RBK Money, Worldline, Oz Forensics, OSTCARD, TietoEvry.
You can become a Delegate, Speaker or Sponsor, having learnt about all the benefits and options for participation here


Register now, limited number of seats available!

Information support:
PLUSworld.ru and Retail-Loyalty.org.
Keep on top of our news at PLUSworld.ru, the official website of the event, and follow us on Facebook, Twitter, and Telegram!
See you at the Forum!
For more information, please contact the PLUS-Forum Steering Committee:
e-mail: marketing@plusworld.ru
tel .: +7 495 961 1065
Tweet