10:52, 30 June 2017
3080 views
SCOne goes global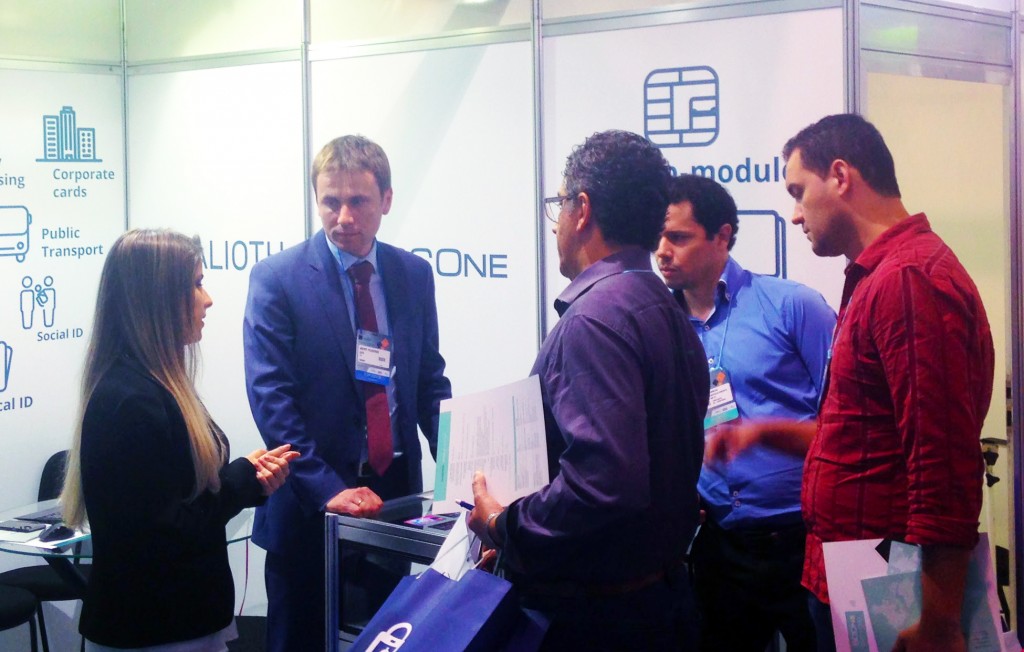 ALIOTH took part in two large regional tradeshows of the card payment industry - Seamless Middle East in Dubai, UAE, and Cards Payment & Identification in San  Paulo, Brazil. The company's active involvement in international exhibitions is driven by the commitment to offer modern competitive products that won recognition in the Russian market to the prospective customers.
ALIOTH's key products presented at the exhibitions include SCOne chip modules with certified applications of Visa and Mastercard, plastic cards, as well as software suites for the integration projects based on multi-function cards.
The card operating system SCOne is not just a certified solution for payment cards, but also a universal platform for various non-financial services. Additional SCOne-based applications designed by the ALIOT specialists allow various customized non-financial services to be enabled on the bank card.
ALIOT also presented off-the-shelf software solutions for social, campus, corporate and transit projects, as well as a wide range of consulting services.
A lot of questions and the interest in the ALIOTH booth shown by the visitors of both exhibitions proved the relevance and popularity of the company's products and services.
Seamless Middle East was held on May 1-2, 2017 in Dubai (UAE). Among the key exhibitors were renowned payment technology developers, major manufacturers of plastic cards and payment terminals.
Cards Payment & Identification took place in San Paulo (Brazil) on May 23-25, 2017. It became the largest venue in Latin America to bring together specialists from various fields across the entire card production value chain.
A leading manufacturer of cards for Visa, Mastercard and MIR payment systems, ALIOTH is ranked by The Nilson Report as card manufacturer No.1 in Russia and one of TOP-10 Visa and Mastercard card manufacturers globally.
On top of the card production and personalization, the company implements complex multifunctional projects on the basis of its own card platform SCOne. Since their launch in 2013, the SCOne card products have won strong positions on the market. More than 100 Russian banks are using them, with the total volume of cards in issue exceeding 35 million.
Tweet