18:34, 7 July 2017
2903 views
"Cash Circulation + Self-service. Banking and Retail": issuing new Rub200 and 2000 notes, robotization, crypto-currencies, the future of bank branches and other key topics of the Forum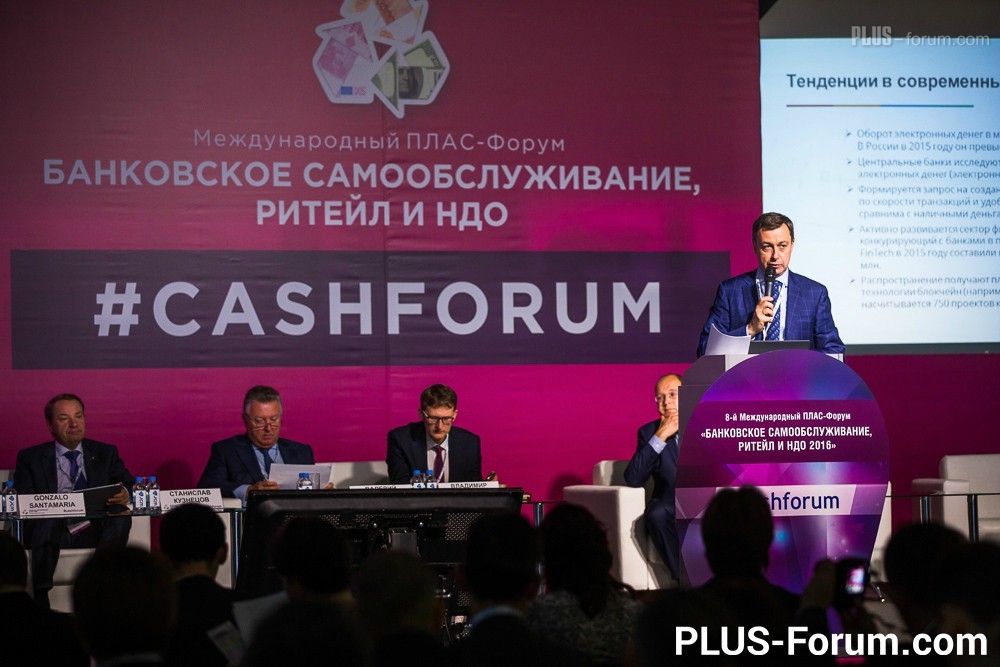 The 9th International PLUS-Forum "Cash Circulation + Self-service. Banking and Retail 2017" will be held in Moscow on October, 4-5. The event will focus on the current state and development prospects of cash circulation, banking and payment industry in Russia and globally.
This year, the Forum (#cashforum) will pay special attention to one of the most pressing issues facing the banking community: the mid-term prospects of cash circulation. Whether the volume of cash transactions will drop or actually remain the same? Or, perhaps, it will demonstrate a certain increase recently shown in a number of countries? And how do these tendencies get along with robotization, digitalization, crypto-currencies and further branch networks shrinking.
The focus will be on the most probable scenarios of transformation of banking services and cash circulation, required by modern society, new business and economic realities under pressure of the continuous development of digital banking. The launch of new Rub200 and 2,000 banknotes scheduled for late 2017 will be widely discussed. To this end, the Forum Organizers will pay special attention to the problems of adaptation of ATMs, terminal networks and sorting machines to the new notes.
A separate session will be dedicated to the cash collection and counteraction to the criminal community. The Forum participants will analyze today's cash management ecosystem and self-service banking infrastructure that ensure effective access of citizens to cash, and will share their ideas regarding the need of their further improvement.
The PLUS Forum will be attended by a broad range of  representatives of Russian and foreign regulators, Russian and foreign commercial banks, top managers of retail businesses, as well as officers of the relevant ministries and departments, law enforcement agencies, suppliers of equipment and technological solutions, and other stakeholders. The total number of participants of the Forum, which has long become a landmark event for all industry players, will exceed 1,200 this year.
The key PLUS-Forum topics include:
Cash circulation in Russia and globally. Government policy and business
Customer experience: the role of branches and self-service device networks
Bank branch: new functionality, technology, equipment, profitability. 
Robotization, branchless bank, crypto-currency… What's next?
Self-service terminal network. Best practices
From outsourcing and remote control to biometrics and NFC
Cash collection and self-collection: from a concept to technological details. 
Security in the offline retail banking: from physical to information threats. Methods of countering criminals offered by industry experts
Other interesting topics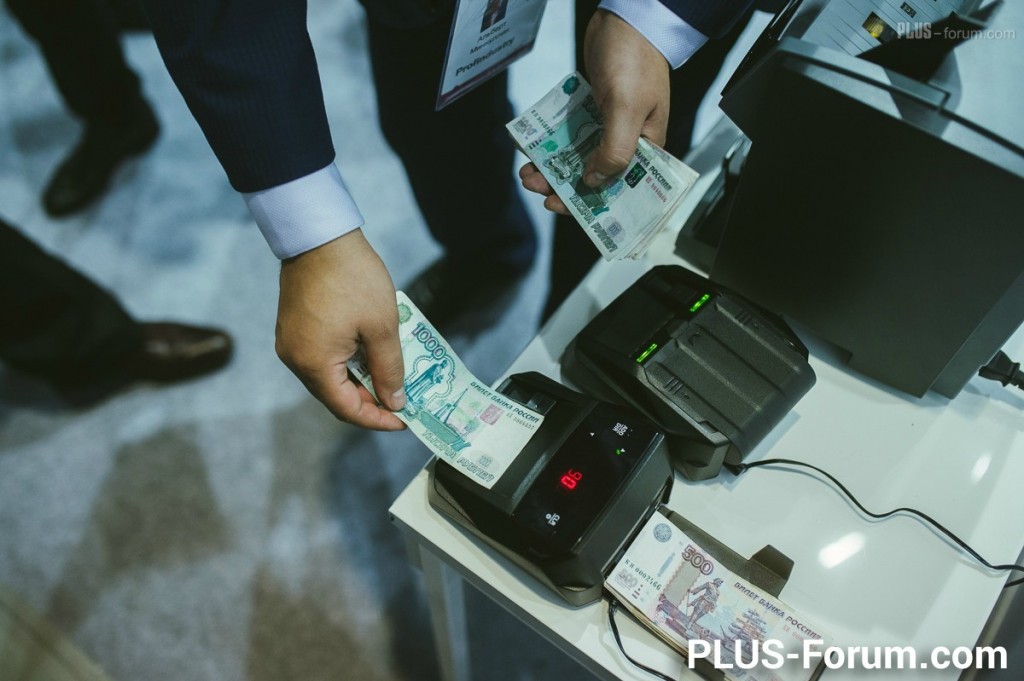 Alongside the Conference, the most representative annual exhibition of specialized equipment and technologies of leading Russian and foreign companies will work.
As participants of the PLUS-Forum note, the popularity of this truly unique event is constantly growing. According to the Steering Committee, the previous October Forum showed a record figure in the years-long history of the event bringing  together 1368 people within the walls of  the Moscow Sokolniki Exhibition and Convention Centre! Among them were recognized market experts, vendors, leading bankers, regulators, major retail chains, relevant ministries and agencies, etc.
Let us refresh just a few moments of the October PLUS-Forum 2016 which are memorable for the market participants:
Arkady Trachuk, Genral Director, Goznak (the federal banknote and securities printing enterprise) announced that the first industrial solutions for note recognition are expected to come to the market in the near future, which will substantially speed up solving of many problems related to cash circulation.
According to Stanislav Kuznetsov, Deputy Board Chairman, Sberbank of Russia, the total volume of unauthorized transactions in online banks reached 3 trillion rubles in 2016.
Cybercriminals are already able to read information from the chip card – warned Artem Sychev, Deputy Director, General Directorate of Security and Information Protection, Bank of Russia.
Currently, mobile payments are the main competitor of cash, especially in emerging markets, said Gonzalo Santamaria, Vice President, Currency Research.
Over the past 14 years, the total number of euro banknotes in circulation have increased by 4.8 times, euro cash – by 2.33 times, while the cost of servicing the cash circulation – by 1.33 times (for notes) and by more than 2 times (for coins), Leonor Machado, Chair of the Cash Working Group, European Payments Council (EPC) said.  
By 2019, VTB Group banks will increase their total ATM network by 139%. It will be achieved, inter alia, through the increase in the number of Post Bank's devices and procurement of ATMs-recyclers, said Valery Chulkov, Board Member, Director of Operational Department, VTB24.
For the first time in the modern history of Russia, Chinese yuan "spurted" to become the third among foreign currencies counterfeited in Russia, said Igor Miloradov, Examiner-in-Chief, Criminal Expertise Centre, RF Interior Ministry.
By 2018, Inkakhran will become Russia's largest commercial carrier of money and valuables, informed Mikhail Belousov, Deputy Board Chairman, Inkakhran.
The Forum exhibition saw the first public presentation of Scan Coin by Gamma-centre. The industrial equipment complex for coins packaging has been already installed at the Moscow and Saint Petersburg Mints of Goznak.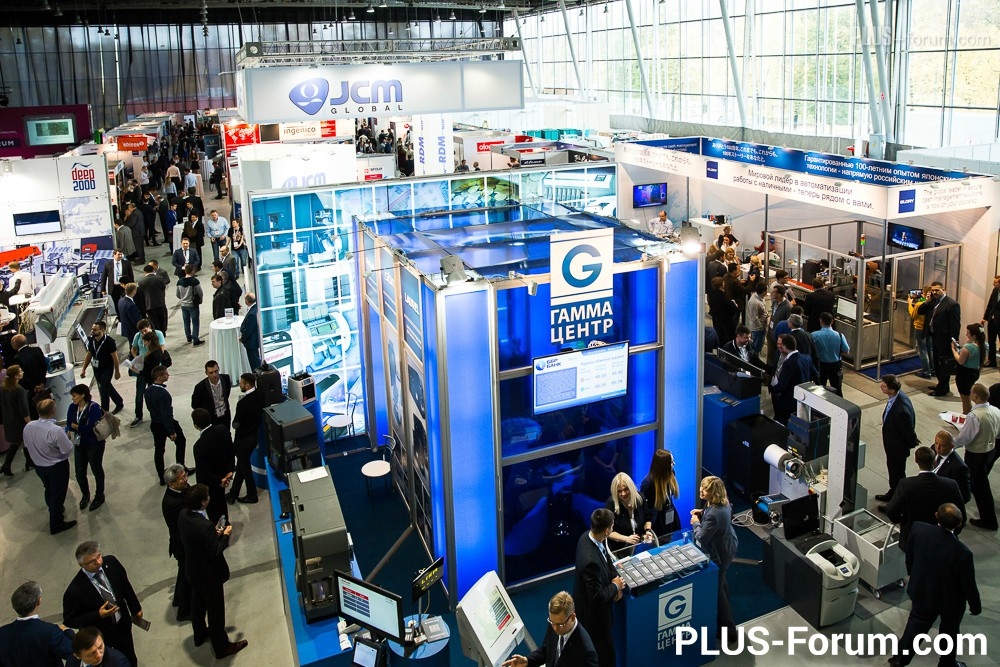 General Sponsors: Kalignite, JCM Global.
Chief Sponsors: Ingenico, Fiserv, DEEP2000.
Partners: SFOUR, Unicum, StrongPoint Cash Security, VisionLabs, ЗАО Giesecke & Devrient – LOMO, PBF Group, Cassida Eurasia, Crane Payment Innovations, Delta Systems, CityNet, Innovative Technology, Sensis, Rielta, Nautilus Hyosung, Third Sense, GLORY Global solutions, GRGBanking, LAN-АТМservice, NBK Trade, 6Q, LANTER, Abloy, Consaltica, OKI, Europeum, , Julong, Hendz holding, Quantum, Maykor.
We invite 
speakers
 and 
vendors
 to participate in the event! To inform us about your decision, please write to Deputy Chairman of the Steering Committee Konstantin Grizov at: konstantin@plusworld.ru or call +7 925 005 40 05.
You can get registered as a delegate 
here
. Hurry up, limited number of seats available!
Follow PLUS-Forum on Facebook and Twitter!
Official Forum hashtag: #cashforum
Tweet